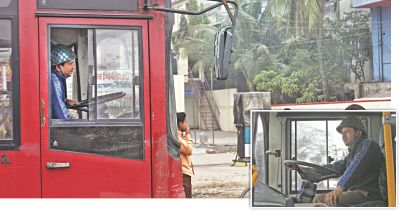 BNP acting secretary general Mirza Fakhrul Islam Alamgir was yesterday denied bail and sent to jail in two cases filed with Sher-e-Bangla Nagar and Paltan police stations Sunday night.
The cases were lodged in connection with torching vehicles and exploding cocktails in Kakrail and East Razabazar during Sunday's road blockade by the BNP-led 18-party opposition alliance.
Abdul Khair Matabbar, an inspector of the Detective Branch of Police and also the investigation officer of the case filed with Paltan police, produced Fakhrul before the court of Additional Chief Metropolitan Magistrate Mohammad Ali Hussain seeking seven days' remand.
The court did not grant the remand prayer.
Earlier in the day, the court placed 57 opposition activists on three days' remand each in a case filed for exploding cocktails and preventing police from discharging duties in Paltan area during Sunday's road blockade.
The opposition alliance has announced to enforce an eight-hour hartal from 6:00am on Thursday if the government does not release Mirza Fakhrul by today.
BNP standing committee member MK Anwar made the announcement on behalf of the alliance yesterday evening at a press briefing in the party's central office in Nayapaltan. Party leaders Sadeque Hossain Khoka and Abdullah AL Noman, among others, were present there.
The opposition alliance will also stage demonstrations in all upazilas, municipalities and districts today. The Thakurgaon unit BNP will observe a half-day hartal [from 6:00am to 12:00 noon] today in the district to press for Fakhrul's release.
Later in the evening, party standing committee member Tariqul Islam was made coordinator of the ongoing agitation programmes. The decision came at a meeting between party chief Khaleda Zia and senior BNP leaders at her Gulshan office in the capital.
Meanwhile, yesterday's countrywide daylong hartal enforced by the opposition alliance witnessed some stray incidents of violence in the capital and other districts.
Incidents of vandalism, arson, cocktail explosion, chase and counter chase, and detentions took place in different areas of the capital, including the Dhaka University area, Kakrail, Farmgate, Mirpur and Jatrabari.
Similar occurrences have also been reported to happen in other districts of the country, namely Chittagong, Narayanganj, Rajshahi, Pabna, Lalmonirhat, Narsingdi and Feni.
Since Monday night, tight security measures had been taken in the capital to prevent anarchy. A huge number of Rab and police personnel had been deployed in front of the BNP central office and adjacent areas.
Yesterday, police kept the BNP central office cordoned off. Only a few senior BNP leaders were allowed to enter their party office.
On the other hand, ruling Awami League activists brought out anti-hartal processions in many areas.
However, almost all modes of vehicles, except for rickshaws and CNG-run auto-rickshaws, remained off the streets during yesterday's hartal.
Plainclothes police picked up a number of opposition activists including BNP's Jamal Sharif Hiru and Mahbub Kiron from the party's central office.
Around five vehicles were vandalised and two more were torched in the capital yesterday. Pickets vandalised the vehicle of the food secretary in front of Kakrail mosque. Police detained several people in this connection.
Two vehicles were vandalised in Farmgate. Pro-hartal activists also tried to block the Kazi Nazrul Islam Avenue by setting tyres on fire at early hours yesterday.
Hartal supporters brought out a procession and blasted several cocktails near Sony cinema in Mirpur.
In Jatrabari, nearly 25 workers of Jamaat-e-Islami armed with sticks and machete brought out a procession. They torched two vehicles and vandalised several more near Wapda colony around 6:30am. Jatrabari police detained two people from the spot.
Witnesses said Rab members fired blanks to disperse another procession in that area.
Nurun Nahar Sarkar, 23, a final-year student of Eden College, was injured when police fired rubber bullets to disperse pickets at Jelepara in South Jatrabari. The injured was rushed to hospital.
In North Dania and Kazla areas of Jatrabari, several pickets tried to block the Dhaka-Chittagong highway with logs and burning tyres around 7:30am. They were later chased away by police.
Law enforcers used teargas when around 40 BNP men brought out a procession at Shaheed Faruque Road in Jatrabari.
The opposition alliance had called the dawn-to-dusk hartal Sunday night protesting mass arrests of and filing of cases against opposition leaders and workers, and obstruction to their Sunday's road blockade programme.
The blockade programme was declared to mount pressure on the government for the reinstatement of the caretaker government system. The provision was scrapped from the constitution in June last year.
Previously, the BNP had declared that it would not participate in the next general election if it is not held under a non-party neutral government.
Although Prime Minister Sheikh Hasina has recently proposed for a small cabinet comprised of ruling and opposition representatives, the BNP rejected it.