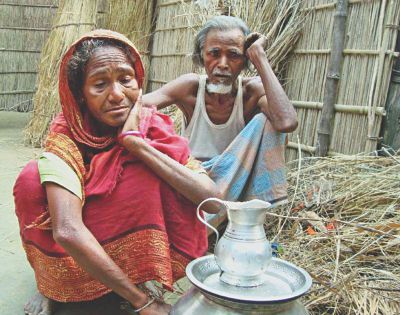 Freedom fighter Nosimuddin Miah, now 86, is passing his twilight years amid utter poverty and neglect as recognition from the authorities concerned and honorarium meant for the heroic sons of the soil still elude him.
"I fought against the Pakistani occupation forces at Karnopur Majhatari, Mogholhat, Jaridhorla, Etapota, Bhatibari, Kulaghat and Fulgachh villages in Lalmonirhat Sadar upazila in Sector 6 under the command of the then Wing Commander AKM Bashar, said the valiant freedom fighter.
"Other freedom fighters tell their stories to the new generation on various occasions, especially on the Independence Day and the Victory Day. My co-fighters receive benefits from the government, but my name is not included in the list of freedom fighters," he lamented.
Nosimuddin submitted a few applications with the recommendations of the local commanders of Muktijoddha Sangsad for inclusion in the list of freedom fighters, the latest on March 6 this year, to the Ministry of Liberation War Affairs but he is still waiting for a response.
The Liberation War veteran is not fit for physical labour, while his wife Rabeya Begum, 69, works as a labourer for Tk 40 to 50 a day.
The earning is barely enough for survival of the couple who have a physically challenged son Noymul Islam, 41.
"Besides taking part in operations, Nosimuddin Miah used to collect information about movement of Pakistani soldiers and their camps, drew maps about it, and submitted to the commander," said his co-fighter Amol Chandra Roy, 71, who lives in the same village.
Recalling the freedom fighter's heroics during the Liberation War, Ayesha Begum, 59, wife of Hazrat Ali of Mogholhat village, said, "Nosimuddin threw a grenade at the Pakistani soldiers who tried to abduct me and my sister Sayma Begum from Mogholhat village. Thus we were saved from utter humiliation."
Lalmonirhat Sadar upazila unit commander of Muktijoddha Sangsad Abu Bakar Siddique said, "Nosimuddin Miah is a real fighter but his name was not included in the list due to his long absence from his native village Karnopur Majhatari. After the independence, he worked at different places of the country for livelihood. He returned in 2000. Other freedom fighters try to help him in times of desperate need. Both Sadar upazila and district units of the Muktijoddha Sangsad are trying to include his name in the list."
Nosimuddin's application was sent to the ministry concerned for inclusion of his name in the freedom fighters' list in October 2010, June 2011 and lastly in March 2012 but he is yet to get any response, said Usuf Ali, commander of Lalmonirhat district unit of Muktijoddha Sangsad.