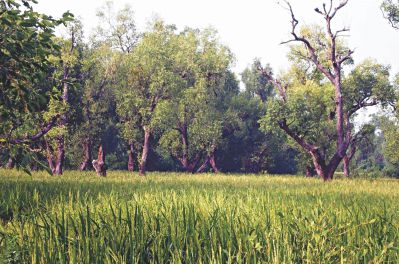 A section of local influential people, allegedly with the connivance of forest officials, are grabbing the land of reserve forest at Gongamoti near Kuakata and converting it into agricultural plots.
The land grabbers felled trees in the forest areas indiscriminately to make room for paddy cultivation.
At least 3,760 acres of land from the east side of Eco Park in Kuakata to Kowar Char point were declared a reserve forest in 1950, officials said.
Over 100 acres of the reserve forest at different spots between Gongamoti and Kawar Char area have already been turned into cropland, Abul Hossain, a local farmer told this correspondent.
Several other villagers alleged that a section of forest officials were aiding and abetting the land grabbers to convert the forest land into agricultural plots for bribes.
Forest department beat officer Muhammad Rezaul admitted that a few local people were cultivating paddy after clearing the reserve forest but denied his own involvement in it.
"It started long ago and the trend is still continuing", he said. "Nobody listens to me when I forbid them. So I informed the matter to the higher authorities to take legal action against the grabbers," Rezaul added.
Khondakar Yaqub Ali, Kalapara upazila forest officer, however, said that he was not aware of the matter.
"None has the right to plunder the reserve forest, I am going to visit the area soon and take legal action if it is found to be true", Yakub said.
To avoid detection by the authorities, the process of grabbing forest land starts with stripping the trees of branches slowly over a period of time.
The land grabbers also make dykes on the banks of natural canals in the area to protect their paddy from salinity, locals said.
They slowly denude the patches of mangrove forest. Chaila, kawra, gauwa and tamarisk are among the trees being cut down, Abdul Hai, a local farmer said.
Among the grabbers, Sultan Mia, Akbar Ali, Khabir Uddin, Musa Mia, Joynal Mia, Shahjahan, Abdul Mannan and Khorshed are prominent, villagers said, requesting their names not to be published.
"One Sultan Mia of the area said that the plot had emerged from the river in front of his land and therefore he had the right to claim it.
"River erosion long ago devoured our land and now that it has emerged, it belongs to us", he said.