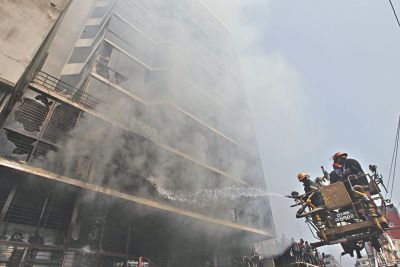 On paper, there is no lack of regulations or codes when it comes to the readymade garments (RMG) sector. One columnist highlighted the situation in a national daily recently: As per Bangladesh Gazette 29/5/2008, exit access, exit, and an exit discharge fall under the compulsory requirement for a factory unit. No factory can have less than 1.1 meter wide exit if it has less than 50 workers; no factory can be exempted from the basic requirement of three exits if it has more than a thousand workers; no factory can escape the rule of law, which clearly states that there has to be at least one fire extinguisher per every 5,500 square feet with 25% of the workers having full operational knowledge of fire fighting, rescue and coordination. The stairs have to be at least 55 inches wide and at least 78 inches in height. There have to be gas and powder-type extinguishers on the floor along with 30 refill masks, blankets, fire hoses, fire beaters, lock cutters, stretchers, ropes, etc.
Those are the laws, rules and regulations. What happened at Tazreen has blown off the lid to a well-known open secret in the industry and beyond. The industrial unit had fire extinguishers but they couldn't be put to use. Lack of water reserves and poor road access to the unit delayed help from arriving at the nick of time. One could fill volumes on what went wrong at Tazreen, but does it really help matters? Soon, the hype will die down and we will all be running after some other tragedy that is even more gruesome than this one. The dust will settle and public attention diverted. People will get on with their lives. Not so for the families of more than a hundred who perished in what was, by the industry's own admission, an avoidable disaster. Had the building code been followed; had the fire extinguishing equipment been prepped and maintained correctly; had a fourth of the workers been given proper fire drills in regular intervals; had the management shown a little more respect for human life by alerting workers of the impending doom they faced when the fire first started.
Policymakers and policy watchers are undoubtedly debating and mulling over what to do next. A Prothom Alo report published on December 3 puts the Fire Service's estimate that fire fighting preparedness in 23.28% of the factories in bad shape. Hence another Tazreen-type incident could be brewing somewhere as we speak. With enforcement of laws being the way they are coupled with an understaffed and under-equipped fire service and building codes ignored, precisely what is going to compel factory owners to embark on equipping their units to fight an outbreak like Tazreen? Installing fire extinguishing equipment costs money; it is so much cheaper to hand out morsels in the event of a fire since all capital machinery are heavily insured and human life is cheap in Bangladesh. Last we heard, the going rate for a burnt out human carcass lost to industrial "accident" was Tk.100,000.
At the end of the day, the poor worker who worked long hours to put food on the table for the family of four or six or eight and in many cases, the only bread earner of the family is now missing from the equation. A fundamental rethinking is required here. In the final analysis of things it is the government's responsibility to see that industry adheres to laws and codes. Passing the buck on to unknown elements or foreign powers simply does not hold good anymore. There are too many reasons not to implement government regulations and it is impractical to think or believe that things can change overnight in enforcement. As rightly pointed out by economist Forrest Cookson in a recent article published in The Independent: "Current compensation levels of one lakh taka are so low that the factory may be prepared to take the risk of not paying the costs of fire protection against the low risk of having a large payout from a fire. The factory involved in this tragedy exported $35 million per year. If the company made a 3% margin on these exports it amounts to a million dollars per year. The cost of the compensation for the dead workers for this fire is about $125,000. The chance of a fire of this size is small, so why pay the costs of a real fire protection program? But at Tk.10 lakh per person the total compensation would be $1.25 million. That is enough to encourage the company to improve their fire protection to avoid such a cost."
In other words, were the government to make it mandatory for RMG companies to ensure workers' compensation programmes due to death or injury, it could very well usher in a new line of thinking for industry owners. As the RMG sector is a fairly labour-intensive sector, the prospect of paying potentially hefty insurance premiums depending on the level of fire safety conditions existing in factories is not something to look forward to from an owner's perspective. It would be in companies' own interest to upgrade and maintain the highest possible fire fighting capabilities to reduce those premiums. This is a workable solution -- one that addresses workers' need for proper compensation, the government's need for adherence to rules and the foreign buyers' demands for compliance.
The writer is Assistant Editor, The Daily Star.