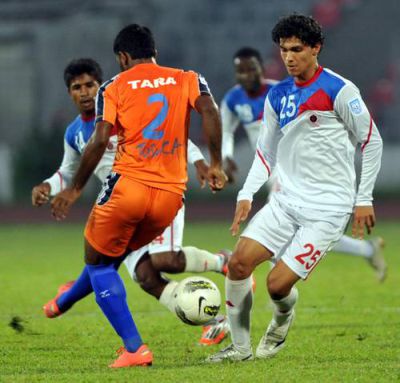 Last season's runners-up Muktijoddha Sangsad notched up their second successive victory in the Grameenphone Bangladesh Premier League as they defeated Brothers Union 2-0 at the Bangabandhu National Stadium yesterday.
Brazilian hitman Thiago Tyson Silva struck both the goals, in front of a couple of thousand holiday spectators under the floodlight, to put the All Reds on the top of the nine-team
table with six points from two matches. With two consecutive defeats, Brothers were at the bottom of the table.
Though the tie was between two fallen giants, both sides presented attacking and fast-paced game before Muktijoddha Sangsad rode on two
clever goals from 24-year old Silva.
"Yes, both goals were tricky but (Joseph) Ozurumba and (Chigozie) Darlington fed me nice balls to score. Actually it was a team effort. Today I scored, tomorrow Yousuf and Ozurumba might score for the team," said Silva.
There were two more Brazilians in the match, both for playing Brothers Union, but Silva hogged the limelight for his two intelligent goals. However, Brothers' Garcia Anderson and Prates Fabio showed signs of brilliance with long-range drives but
their efforts were not enough to avert Brothers' seventh defeat in 11 professional league matches against Muktijoddha Sangsad.
Brothers dominated the first 20 minutes of the match with Anderson going close to giving the lead but Muktijoddha goalkeeper Ziaur Rahman managed to stop a 30-yard effort from Anderson and it worked as a wake-up call for Muktijoddha.
Muktijoddha themselves were denied by the woodwork in the 25th minute when Jewel Rana's 30-yard left-footer rattled the crossbar, before the All Reds took the lead in the next minute.
Nigerian Ozurumba provided a clever lob from the edge of the danger zone for Silva, who controlled the ball before sending it over the advancing goalkeeper Piaruzzaman Piru with a left-footed side volley. Silva then doubled the lead in the 34th minute with another cleaver goal, this time Nigerian Chigozie Darlington put the ball inside the box and Silva shrugged off his marker Ashraful Karim to lift the ball over onrushing Piru.
Soon Brothers coach Ladi Babalola sent winger Shah Alamgir Anik in place of Ashraful and the inclusion of the midfielder put some pressure on Muktijoddha, who virtually were down defending their lead for the rest of the time.
After resumption, Brazilian Anderson saw his powerful shot from outside the box denied by Mutkijoddha keeper Zia while Fabio narrowly missed to make contact with an Anderson cross. Brothers pressed hard throughout the second half but could not split the backline marshalled by Benjamin Eleta, Zahurul Islam, Shamol Ahmed Rony and Prodip Barua. Zia also proved solid under the bar.