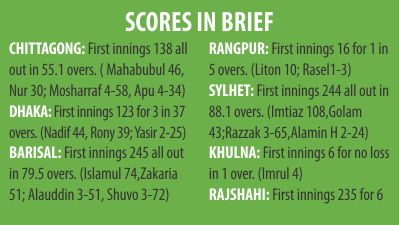 A brisk beginning to the fifth round of the National Cricket League saw three teams fold out early in their respective matches yesterday. Chittagong, at their home ground—MA Aziz Stadium—were bowled out for 138 by Dhaka as spinners Mosharraf Hossain and Nazmul Apu ran through the hosts' batting order.
The game at the Shahid Kamruzzaman Stadium in Rajshahi saw Barisal get bundled out for 245 by Rangpur. Meanwhile league leaders Khulna maintained their good run as they bowled Sylhet out for 244 at the Cricket Garden in Rangpur. Rajshahi were the only team batting first, to not get bowled out, as they finished their first day at 235 for 6 at the Sher-e-Bangla National Cricket Stadium in Mirpur, against Dhaka Metro.
CHITTAGONG v DHAKA
It was a combination of some slow bowling that got the better of the batsmen from the port city as Mosharraf and Apu, shared eight wickets between them to bowl the hosts out for a paltry score. In reply, Dhaka lost three wickets and scored 123 runs before stumps yesterday.
BARISAL v RANGPUR
Alauddin Babu and Sohra-wardi Shuvo continued their good run with the ball as they took six wickets against Barisal. Half-centuries from Islamul Ahsan and Zakaria Masud provided the contribution for Barisal.
SYLHET v KHULNA
Razzak picked up three more wickets in the innings to increase his total tally to 41 in the league as Khulna bowled Sylhet out with just 11 ball remaining in the day. Sylhet's Imtiaz Hossain followed his half century in the previous innings with a 108 in the match.
RAJSHAHI v DHAKA METRO
Dhaka Metro were without their captain, Mohammad Ashraful who got injured before the game. Shamsur Rahman led the side yesterday. Rajshahi's Myshukur, followed his 100 in the previous game with a 91 and discarded opener Junaid Siddique scored a 41 for the reigning champions.