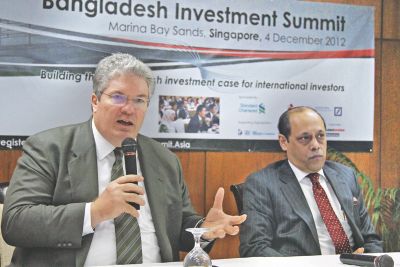 A daylong event dedicated to Bangladesh will take place in Singapore next month to convey the country's success stories and potential to foreign investors.
The conference, known as Bangladesh Investment Summit, is tipped to be an important platform for Bangladesh's businesses and policymakers to market the country -- as it will be attended by more than 200 potential investors from across the world.
FinanceAsia and AsianInvestor, both published by Haymarket Financial Media Group, will host the summit at the Marina Bay Sands Convention Centre in the city-state on December 4.
Asset owners, private banks, asset managers, investment banks and other financial institutions will also take part in the summit, which will address all issues pertaining to investing on the continent.
The summit will showcase the vast opportunities available in Bangladesh, Jim McCabe, chief executive officer of Standard Chartered Bangladesh, told reporters in Dhaka yesterday.
"The potential of Bangladesh is real. We see a huge potential in the country. There is also a plenty of scope to engage in investment in the country," he said.
The summit, sponsored by Standard Chartered Bank, the City Bank Ltd and Deutsche Bank, will help leading Bangladeshi businesses access foreign capital to expand their businesses, he said.
McCabe said prestigious speakers from government, leading Bangladeshi corporate world, financial institutions and Asian investors, would lend their expertise on driving inward investment to Bangladesh.
Topics to be covered include access routes for investment, Bangladesh's strategic potential, success stories of inward investment and discussions on how to stimulate exports and improve the country's infrastructure.
In a statement circulated at the press briefing, Jonathan Hirst, publisher of FinanceAsia and AsianInvestor, said although the profile of Bangladesh as an investment destination is gaining momentum, a large part of it remains an untold story.
"The summit represents a significant step in the right direction, which we hope will go some way in helping to attract investment into the country," Hirst said.
The event, the first-of-its-kind for Bangladesh, represents an opportunity for international investors to learn and share ideas on unlocking capital to grow business, increasing exports in existing and new industries and developing key infrastructure projects, he said.
McCabe said Bangladesh has demonstrated rapid progress since independence and has been rightly identified as one of the "next 11 economies".
"We need to showcase the investment opportunities that Bangladesh offers to the world."
The experienced banker said although it could not be said immediately how much the summit would help Bangladesh attract in investment, but the event would offer fantastic networking opportunity for the people who want to expand their footprint.
Mahmood Sattar, managing director and chief executive officer of City Bank, said investors are looking for new markets and opportunities as growth in the western world, including the US and EU, have come to a standstill due to the ongoing crisis.
"Historically it could not have been a more appropriate time than this for Bangladesh to assert its potential abroad to attract foreign investors. The same is true from the investors, as Bangladesh offers vast opportunities for foreign funds and others."
He said Bangladesh has to be sold well outside because its achievements and what it can offer to the world.
Both McCabe and Sattar said time is right for the summit as investors with funds would decide in December where to put their money next year and the year beyond. The networking will translate into follow-up meetings and visits.
The Daily Star and the Financial Express are the media partners of the event.