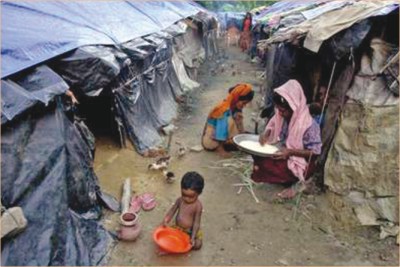 We have learnt from newspaper reports that Myanmar leader Aung San Suu Kyi on November 13 described the violence in west Myanmar between Buddhists and Muslims as a "huge international tragedy" and said illegal immigration from Bangladesh had to be stopped.
Dhaka has expressed surprise at these comments in a press statement saying historic evidence shows that people of Rohingya ethnicity have been living in the Rakhine state of Myanmar for centuries, whereas Bangladesh came into existence only in 1971.
The hard fact is, there have been occasional influxes of Myanmar nationals of Rohingya ethnicity into Bangladesh due to internal situations in their homeland for long. We remember, during the visit of Bangladesh Prime Minister Sheikh Hasina to Myanmar in December 2011, the government of Myanmar had assured Bangladesh of taking back the remaining Myanmar refugees after verification of their origin.
We know both Bangladesh and Myanmar are working closely to resolve this longstanding issue. But the recent comments of Suu Kyi would jeopardise all these efforts. We hope she would make well-thought comments in this regard.