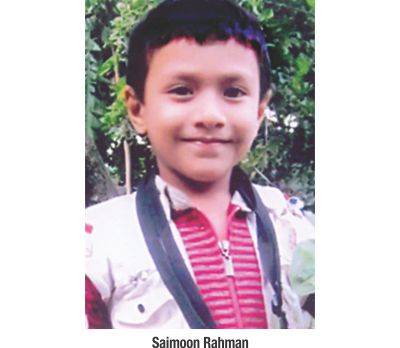 A five-year-old boy, who went 'missing' from Uttar Balubari in the town on Tuesday evening, was found dead in the satellite town area yesterday morning.
Saimoon Rahman, son of Mezbahul Reshedin Badsha, was a nursery student of Sevil Kindergarten at Dakkhin Balubari.
Locals found the body in a sack at Block-7 in Dinajpur Satellite Town, about two kilometers off Balubari, at around 7:00am and informed the police who later recovered the body and sent it to Dinajpur Medical College and Hospital for autopsy.
Police said criminals abducted Simoon from Balubari area and then strangled him. But they could not unearth the clues to the murder as of filing of this report at 5:00pm.
Victim's father Badsha said he don't have any conflict with anyone in the area. "Being informed by police, I went to the satellite town area and identified the body of my son," he said.
Simoon's mother Hastun Nahar Shuvra told local journalists that her son went out of their house at around 3.00pm on Tuesday to play cricket with his friends on nearby Girijanath High School ground.
As Simoon did not return home in the evening, family members started looking for him in the area. Failing to find Simoon as of 8:00 pm, his farther filed a general diary with Sadar Police Station.
Contacted, Md Abdul Kader Zilani, officer-in -charge of Dinajpur Sadar Police Station, said they are trying to unearth the clues to the murder and arrest the culprits involved.
Simoon's father filed a murder case with the police station yesterday afternoon, police said.