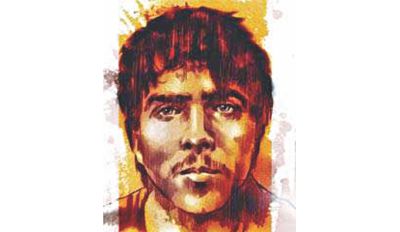 Ajmal Amir Kasab
Pakistani national Mohammed Ajmal Amir Kasab, one of the 10 attackers of 2008 Mumbai mayhem that killed 166 people, was hanged yesterday at a highly secured Indian jail.
Kasab, 25, the one of the attackers captured alive, was hanged at 7:30am in Pune's Yerawada jail, Indian Home Minister Sushil Kumar Shinde told the media. He was buried inside the jail complex.
The execution came after President Pranab Mukherjee turned down Kasab's mercy petition on November 5.
On the night of November 26, 2008, the terrorists armed with automatic weapons sneaked into Mumbai on a boat and launched a well-coordinated attack on multiple targets in the city, including the iconic Taj Hotel.
They continued the mayhem for three days before Indian security forces eliminated nine of them and arrested Kasab.
The abiding image of Kasab, strapping with ammunition and holding a Kalashnikov rifle, was captured on a CCTV camera at Mumbai's Chhatrapati Shivaji Terminus Station.
Since his arrest in 2008, Kasab was kept in a high-security bulletproof cell in Mumbai's Arthur Road jail, and was pronounced death sentence on May 6, 2010.
Foreign Minister Salman Khurshid yesterday told reporters in New Delhi that India had attempted to convey to Pakistan the decision of hanging Kasab, but it had not responded. "So our obligation of trying to inform Pakistan has been fulfilled," he added.
"Frankly speaking, we have allowed rule of law to prevail [in India through the trial of Kasab]."
He expressed the hope that the rule of law would prevail in Pakistan as well in the trial of the 26/11 attack.
A trial is on in Pakistan relating to the Mumbai terror attack but India has voiced dismay over the slow pace of the trial and asked Pakistan to bring the masterminds to book.
Sindhe said the Indian High Commission in Islamabad informed Kasab's family of the execution.
As many as 166 people had been killed in the terrorist attack, said Maharashtra Home Minister RR Patil.
"I sincerely believe that this [the execution] is a tribute to all the innocent people and the officers who lost their lives."
India's main opposition BJP welcomed the execution.
"Better late than never. Kasab's hanging will act as a balm on the wounds of the people of Mumbai but their wounds are still fresh. They will get relief only when Kasab's handlers across the border are brought to justice," said BJP spokesperson Shahnawaz Hussain.