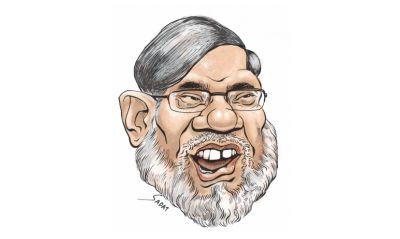 Jamaat-e-Islami leader Ali Ahsan Mohammad Mojaheed was involved in the mass killing committed in four Hindu-dominated villages in Faridpur during the Liberation War.
Sixth prosecution witness Abdul Malek Mia said this during his testimony in the crimes against humanity case against Mojaheed before the International Crimes Tribunal-2 yesterday.
He said Pakistani army men along with armed Razakars, some Biharis (non Bangla speaking people), one Hammad Moulana and Mojaheed went to the villages in the middle part of the Bangla month Jaistha during the war.
"These people were involved in looting, arson and killings [committed in these villages]," said the 75-year-old former politician from Faridpur.
Malek said he visited the villages on the following day of the incident and heard about Mojaheed and others from survivors and victims.
On June 21, the tribunal indicted the Jamaat secretary general from Faridpur with seven charges of crimes against humanity committed during the Liberation War.
The three-member tribunal, headed by Justice ATM Fazle Kabir with members Justice Obaidul Hassan and Judge M Shahinur Islam, recorded Malek's testimony as well as his cross-examination before adjourning the case proceeding until November 27.
During his 34-minute testimony, Malek said he was the president of Awami League Dikrirchar Union unit and was living in Kajem Matabbar village of Faridpur in 1971.
The Pakistani army was angry at the Hindu community and Awami League leaders and activists and killed them, said Malek.
On April 21, 1971, Pakistan army went to Faridpur and set up their camps at Police Line, stadium and Faridpur Rajendra College, said the witness adding, "Along with Razakars [an anti-liberation force] and Biharis, they committed looting and other atrocities."
On a Jaistha morning, Malek's wife informed him that the Pakistani army was approaching towards their village and Malek hid himself in a ditch beside his home, said the witness.
"Our village was Muslim-dominated. They [attackers] didn't do any harm to our village," said Malek, adding, "They entered the Hindu-dominated Bhangidangi, Baidyadangi, Baladangi and Majhidangi, set houses ablaze there and killed people shooting indiscriminately."
The atrocities were too much for him to take, said Malek, adding that the following day Aftab Uddin, a Muslim league leader and the then chairman of their union, whilst going past their home asked Malek to go to the affected villages with him.
"I went with him and visited the areas. All houses of the villages were burnt down... Bodies were lying here and there," said Malek.
When they reached the villages some 50-60 people came out of hiding.
The chairman ordered the people to bury the bodies and they followed his order, said Malek, adding, "There were approximately 30-40 bodies there."
Then Malek came to know from the locals that the Pakistani army along with armed Razakars, some Biharis, one Hammad Moulana and Mojaheed had gone to the villages from Faridpur and these people were involved in the atrocities, said the witness.
After lunch, defence counsel Syed Mizanur Rahman completed cross-examination of Malek within 45-minute and asked around 40 questions.
Replying to a question, Malek said he could not say specifically from whom he had heard the names of Hammad Moulana and Mojaheed on that day.
"You have given an untrue testimony after being trained by prosecution to make Ali Ahsan Mohammad Mojaheed unfit and unacceptable in Faridpur and national politics," suggested Mizanur.
"It is not true," replied Malek.
Meanwhile, the tribunal adjourned the case proceeding of former minister Abdul Alim until today following a time petition from his defence counsels.