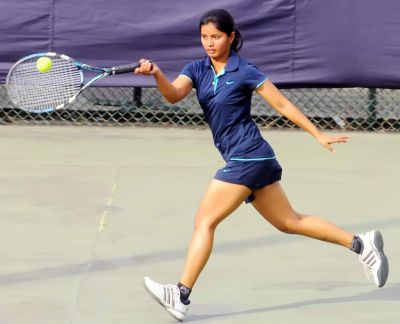 Bangladeshi players had a mixed day in the Focal Point 26th Bangladesh ITF Junior Tennis Championships at the National Tennis Complex in Ramna yesterday. Eshita Afroz and Sharmin Alam Sharda won their respective matches in opening round of the girls' group while Jamil Bhuyan was the only Bangladeshi boy making it to the third round after beating a compatriot.
Eshita beat Deshmukh Sharlee of India 3-6, 7-5, 6-3; Sharda defeated Namrata Dutta of India 3-6, 7-5 (retd) while Ayesha Sultana lost against Sruta Kirti Gunuganti 0-6, 0-6, Jhilik Chakma lost against Aboli Goghari of India 0-6, 1-6 and Moumita Jannat lost in straight sets against Hsu Ting Ya of Taipei 0-6, 0-6.
In the boys' group, Jamil Bhuiyan defeated Ashik Khan of Bangladesh 6-0, 6-1 but Kawsar Ali lost against Kim of Korea 2-6, 2-6; Hanif Munna lost against Jensen of Netherlands 4-6, 2-6 and Biplob Ram lost against Mannepalli of India 6-4, 3-6, 3-6.