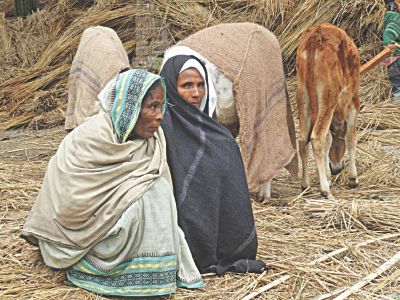 Early arrival of winter this year has come as an added woe to the poor people, especially those living in remote char (landmass emerged from riverbed) areas of five upazilas in Lalmonirhat district.
Usually the winter comes at the end of November or early December but this year the chilly weather engulfed the area in the first week of November, locals said.
Unable to purchase warm cloths, even second hand ones, the poor people have to bear the brunt of the biting cold, especially during the night and morning.
The helpless people are now crying for help from the government or non-government organisations.
Rahat Ali, 48, a day labourer at Kalmati Char village in Lalmonirhat Sadar upazila, said, "I daily earn Tk 130 to 150 which is spent to maintain my five-member family. I have no money to purchase warm clothes and it becomes difficult to go out for work in the morning due to the cold."
"People like me, who live hand to mouth in char areas, are facing untold sufferings due to early arrival of winter this year," he said.
"The winter makes my life miserable. I have no warm clothes, and so, I tremble in cold, especially at night. I have to beg for livelihood but I can't go out for the purpose in the morning due to severe cold during the last two weeks," said Rozina Bewa, 65, a resident of Char Bowalmari village in Lalmonirhat Sadar.
Azizar Rahman, 50, a farmer of Rudreshwar village in Kaliganj upazila, said labourers cannot join their work before 10:00am and they go back home before 5:00pm due to the cold as many of the day labourers have no warm cloths.
"Poor people are badly suffering due to cold. Aged people and children are the worst victims of the early winter in the district. Many people from char villages in my union crowd my home and office for warm cloths but I cannot do anything for them," said Mofazzol Hossain Mofa, chairman of Rajpur union parishad.
Idris Ali, chairman of Kulaghat union parishad in Lalmonirhat Sadar upazila, said low income people like day labourers and rickshaw-pullers cannot go out early in the morning for work due to the cold.
Lalmonirhat District Relief and Rehabilitation Officer Anwarul Islam said the ministry concerned is yet to give any allocation for warm cloths to distribute among the distressed people.
"Generally the allocation is made during the second half of December but the winter has arrived early this time. I will distribute warm cloths among the needy people if the allocation is made soon," he said.