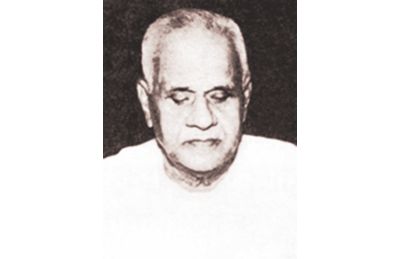 Yesterday marked the 124th birth anniversary of journalist and liberal thinker Mohammad Nasiruddin.
He was born in Chandpur district, in 1888. He had little formal education. But through his personal studies and interactions with noted littérateurs and thinkers, he became an outstanding reformist intellectual of the early 20th century.
At first he worked with an insurance company as a field salesman. But soon he left the job, moved to Calcutta (now Kolkata) and chose the career of journalism. In 1918, he published an illustrated literary magazine called 'Saogat'. But due to financial constraints the publication of the journal was kept suspended in 1922. However, its publication was resumed in 1926 and since then it continued uninterruptedly until 1947. In 1926, he organised the 'Saogat Sahitya Majlis' and encouraged young writers through it.
The rebel poet Kazi Nazrul Islam, Roquia Sakhawat Hussain, Shamsunnahar Mahmud, Sufia Kamal and many other writers had used 'Saogat' as their platform to propagate their progressive and dissident views.
Nasiruddin was a progressive man and wanted his daughter to be the same. He had wanted to bring women into journalism. He started an annual women's issue of 'Saogat' in 1927. Every year, one issue of the monthly would be dedicated exclusively to women, with writings by female writers. However, it seemed to Nasiruddin that one women's issue per year was not really doing much to improve the situation of women in journalism and, in turn, society. Thus, in 1947, a month before India's partition, the weekly 'Begum' was first published in Calcutta. Its first editor was Sufia Kamal, and acting editor, Nurjahan Begum (daughter of Mohammad Nasiruddin).
Nasiruddin printed the photographs of poets, litterateurs, historians and educated Muslim women in the journal in spite of vehement protest of conservative Muslims. Through cartoons he sharply pointed at the anomalies prevailing in the society.
After the partition, Nasiruddin opted for East Bengal and settled in Dhaka wherefrom the 'Saogat' began to appear again regularly since 1954.
Nasiruddin was a fellow of Bangla Academy, a member of the Board of Trustees of the Bangladesh National Museum, and Chairman of the Board of Trustees of the Nazrul Institute. He received the Bangla Academy Award (1975), Ekushey Padak (1977) and Shadinota Padak. He introduced the 'Nasiruddin Gold Medal' in 1976 to be awarded among the creative writers and journalists. He breathed his last on May 21 in 1994 in Dhaka.
Compiled by Correspondent