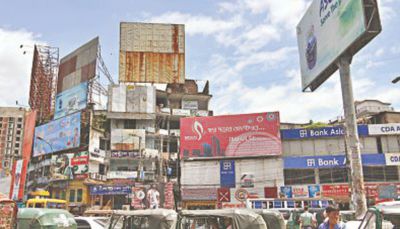 I refer to the news item published in the DS dated November 15 regarding illegal billboards in Chittagong. These huge billboards not only destroy the beauty of a city but also divert the attention of the vehicle drivers resulting in serious accidents. The advertising companies who build the billboards in collusion with the city corporation have been creating this nuisance since last two decades.
The only way to get rid of these illegal billboards in metropolitan cities is by imposing heavy fines by the Department of Environment (DoE) on companies who advertise their products and services. The Department of Environment should get into action and stop these visual pollutions. I appreciate the Department of Environment which has become active in imposing heavy fines on factories and brickfields for polluting the environment and rivers.
I feel sad to see the way these multi-national companies and service providers spend millions of taka on advertising. In fact these companies should cut down their advertising funds and donate fund for poverty alleviation and development of villages in Bangladesh. It may not be out of place to say that the Ministry of Health has at least done a good job by banning all advertisements by tobacco companies in Bangladesh.