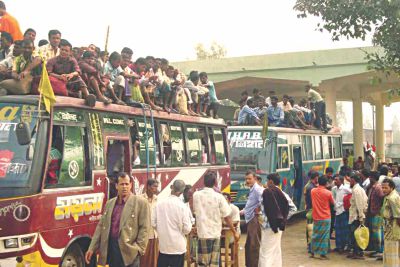 A large number of jobless farm labourers from the district go to other districts in search of work, especially during the crisis period of November.
Many of them go to Chittagong, Dhaka, Sylhet and Comilla districts to work in crop fields or as labourers in construction sites on yearly contract while others go for harvesting early variety of aman in relatively 'flood free' districts like Rajshahi, Noagaon, Natore, Joypurhat, Thakurgaon, Dinajpur and Panchagarh.
Flood-prone areas of Gaibandha Sadar, Sundarganj, Fulchhari and Saghata upazilas under Gaibandha district often see loss of crops, especially aman. After flooding for more than once, farmers virtually plant late variety of paddy and that requires more time to harvest.
The situation forces local farm labourers to move to other districts in search of work.
While visiting Gaibandha bus terminal a few days ago, this correspondent witnessed a large number of farm labourers jam-packed on roofs of buses bound for distant districts. 'Team leaders' were seen bargaining with bus conductors for low cost fare.
"Bus conductors claimed 60 percent of usual fare for each person travelling on the rooftop, but we are trying to reduce it below 40 percent. Sometimes exchange of hot words occurs over the fare," said Alimuddin, a 'leader' of labourers from Santiram village in Sundarganj upazila.
"It will take around one month to start harvest of aman paddy in flood prone areas of Gaibandha district. Meantime, we want to earn some money by working in other districts where wage rates are higher," said Keramat Ali, a farm labourer of Kanchipara in Fulchhari upazila.
"I have borrowed Tk 1,000 from a local moneylender to feed my family, on condition to pay back with interest of Tk 300 per month when I return from work," said Abdul Hamid, a labourer of Belka village in Sundarganj upazila.
A team usually consisting 15 to 20 people work for harvesting aman crop on contract basis. They receive Tk 1,300 to 1,500 per bigha and when the harvesting completes each labourer gets Tk 10 to 12 thousand for the temporary work.
Landlords of Chittagong, Comilla and Sylhet engage agents for supplying yearly basis low cost farm labourers from northern districts. The agents make some advance payment to the labourers and bear their travel cost for joining the work. Later the agents take back the amounts as well as 'commission' for the brokerage from the total earning of each labourer, said Mosaddek Ahmed Bulbul, leader of khetmajur samity (farm labourers' association) at Dariyapur in Gaibandha district.
"The 'labour market' at Panchpir Bazaar in Sundarganj upazila is now busy supplying farm labourers to different distant districts and so, a good number of such job seekers are seen travelling on buses or trucks. A section of labour agents or brokers take commission from the innocent labourers for giving them job opportunity through contacting with landlords," he added.