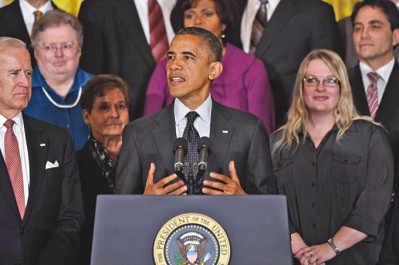 Many experts say that Bangladesh does not have the "best of relationship" with the US at the moment for various reasons. Even so, Bangladesh could benefit outsourcing jobs in the near future, which could be difficult if a Republican was in power. Because it is observed that with the Republican Party government, the USA becomes more conservative in its policy.
A recent report referring to the opinions of economists and experts published in this daily analysed how Bangladesh can get benefit from the re-election of Barack Obama as the US president.
However, President Barack Obama tells firmly to enhance the American economy's growth rate which will improve the present employment situation as well. Naturally, there will be more income for the American citizens. Definitely, it would widen the opportunity for selling Bangladeshi garments and other items in the US market.
In fact, to take full advantage of this favourable situation, Bangladesh has to work sincerely for strengthening US-Bangladesh relationship. It must be remembered that Bangladesh garment exporters have been seeking duty-free access to the US market for years now as they have to pay on average 15.30 percent duty, whereas some developed and developing countries pay below four percent. So Bangladesh has to pay attention to the US concerns in some areas like labour and human rights, political uncertainty and corruption.
Anyway, it makes us hopeful to know from reports that the US-Bangladesh relation developed in a positive way during Obama's first term, with Bangladesh getting benefits from his different initiatives like Feed the Future, Global Health, Food Security Initiative, etc.