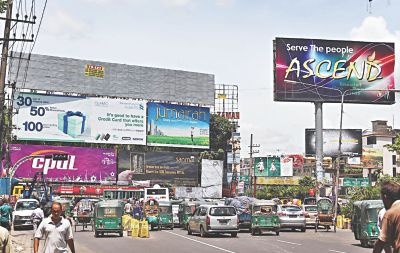 Despite its recent announcement, the Chittagong City Corporation has failed to remove the illegal hoardings from the port city.
The city corporation announced in September that it would knock down the illegal structures to preserve and enhance the scenic beauty of the port city.
However, there has been no drive in this regard since September 12 when the CCC authorities removed only six illegal billboards. They were supposed to carry out the drive every week in accordance with the September announcement.
As the move has stalled, more and more illegal hoardings are growing by the day across Chittagong city, damaging its beauty as well as putting in question the role of the city corporation.
Meanwhile, the CCC officials and billboard owners held a meeting on Monday to revive the initiative and decided to form a 10-member committee within seven days to finalise its policy regarding installation of billboards. Mayor Manjur Alam was present on the occasion.
CCC sources said the committee would comprise four members from the city corporation, three from Chittagong Advertising Owners Association, and one each from Bangladesh Railway, Chittagong Port and Chittagong Development Authority.
In April last year, a meeting of the CCC officials chaired by Mayor Manjur Alam approved a draft policy regarding installation of billboards.
The policy says billboards hiding aesthetic buildings, historical constructions, murals or sculptures, natural beauties and government buildings will not be allowed for installation. It also prohibited construction of billboards on footpaths so that movement of pedestrians is not hindered.
Talking to The Daily Star, Mayor Manjur admitted that illegal billboards were springing up at important spots of the city but said the authorities would remove them to preserve its beauty.
"CCC earns only Tk 2 crore from the billboards," he said, adding that the city corporation would make a list of illegal billboards within a month.
According to data at the city corporation, in 2009-2010, there were only 3,049 advertisement boards across the city. This number rapidly increased to 5,018 the next year. Now, the number of billboards stands at 5,679.
But CCC sources said the number of billboards installed by the different ad firms would be far higher than the number shown in the data. Some politically blessed businesspeople with the help of some big officials of the CCC are involved in the illegal activities, they said.
Chittagong Advertising Owners' Association President Farid Mahmud said it was the duty of the city corporation to look into why the illegal hoardings were being installed, and who were behind this.
If CCC prepares a list of illegal hoardings, it will be easy to remove those, he told The Daily Star. He also said they were ready to help and cooperate with the city corporation in removing the illegal hoardings.