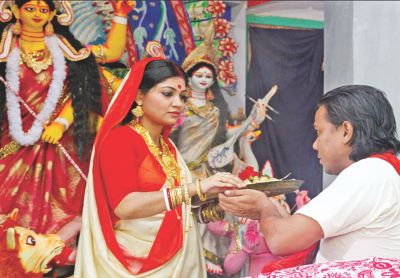 The festivities of Durga Puja in the quaint world of a 100-year-old house of a Hindu family at Nasirnagar (Brahmanbaria district) and the immersion of the idols in nearby Langhan river came alive beautifully during the second phase of the shooting of Tanvir Mokammel's forthcoming feature film "Jibondhuli" last week.
Mokammel told The Daily Star that he shot several scenes of the festival at "Datta Bari", the house of the Datta clan, with the participation of several members of the family -- a move that helped him to keep down the film's small budget.
The third phase of shooting for the film, being funded by Bangladesh government, will be shot in January in Baithaghata and Chupnagar of Khulna district where the director will recreate the scenes of one of the worst genocides perpetrated by Pakistan army and its local allies on May 20, 1971 during the Liberation War.
To recreate the Chupnagar genocide, Mokammel said he would seek the Bangladesh army's assistance in the form of weapons and some other logistics.
The first phase of the shoot took place in Pubail last month.
Asked why there is such a long gap between the second and third phase of the shooting, the director said he would be in London for a little over two weeks, from November 17, for academic work. Besides, it will take some time to seek the Bangladesh army's help in recreating the Chupnagar massacre by Pakistani army.
Shatabdi Wadud is playing the title role in "Jibondhuli", based on the life of a Hindu 'dhaki' (drummer), his soft corner for a young married woman of the Datta family and subsequent destruction wrought by Pakistan army during the Liberation War.
Among the other lead actors in the film are Ramendu Majumdar, Chitralekha Guha, Tabibul Islam Babu, Uttam Guha, Wahida Mallick Jolly, Pran Roy, Jyotika Jyoti, Paresh Acharya, Iqbal Hossain, Rimu Khondaker, Mrinal Datta and Reaz Mahmud Jewel.
Mahfuzur Rahman Khan is the film's cinematographer; Syed Shabab Ali Arzoo is music director; Uttam Guha is art director and chief assistant director. Around 30 former and present students of Bangladesh Film Institute are also involved in the project.