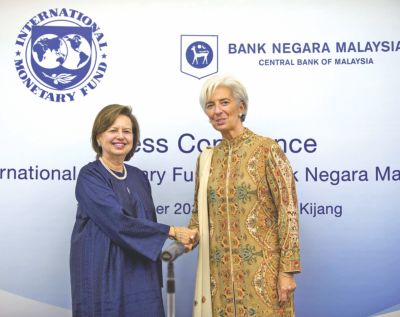 The International Monetary Fund wants a "real fix, not a quick fix" on Greek debt, its managing director said Wednesday, days after publicly clashing with European officials on the issue.
Christine Lagarde also urged US legislators "at all costs" to avoid the "fiscal cliff" of spending cuts and tax rises that will come into effect January 1 unless the two parties can agree a deficit and debt reduction deal.
Asked at a press conference in Malaysia whether the IMF would insist on Greece's debtors taking a "haircut", Lagarde said all partners "share the same objectives and the same concern" to return the country to economic stability.
"And obviously from the IMF perspective we expect a real fix, not a quick fix, and that means clearly a debt that is sustainable as quickly as possible."
She declined to take further questions on Greece.
The country's debt crisis has revealed new strains between the IMF and European finance officials.
On Monday Eurogroup president Jean-Claude Juncker and Lagarde clashed openly on a key debt target in the bailout programme.
Speaking after a eurozone finance ministers' meeting in Brussels, Juncker said the country's debt target of 120 percent of gross domestic product should be put back two years to 2022. The current level is 170 percent.
Lagarde told the same press conference she believed the target should remain at 2020, the original date in the second bailout agreed earlier this year.
On China, the IMF chief said Wednesday the Communist Party congress that ended earlier in the day would clear uncertainties. The meeting has put in place a new top leadership line-up to be formally announced Thursday.
Economic actors "should be able to move in a more settled, certain environment. That is very important," she said.
"Our sense is that China is going to continue to be a significant driver for growth... China is a very important member of the IMF."
In a later speech on Asia's prospects, the IMF chief said the continent's response to its 1998 economic crisis has lessons for the rest of the world.
Asia's economic foundations "became safer, sounder, and more resilient -- but still open to the world and open for business. This has important lessons for the advanced economies currently facing severe challenges," she said.
"Of immediate concern, American policymakers must avoid the so-called 'fiscal cliff' at all costs," Lagarde said.
Otherwise, US growth would fall to zero or below "and the rest of the world will not be immune. This policy uncertainty must be resolved, and it will require all sides coming together."
Lagarde said the eurozone "must also deliver on its policy commitments at the national and regional level -- fiscal, financial, structural. And again, all players must play their part."
A major priority was a true banking union to complement its monetary union, she said.
"As a first step, this means a single supervisory framework; and ultimately, there also needs to be a pan-European deposit guarantee scheme and a bank resolution mechanism with common backstops."