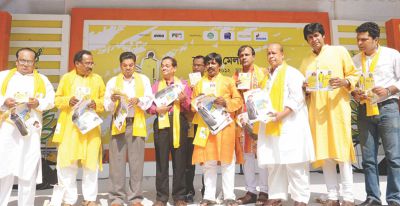 Family members, friends and fans of Humayun Ahmed and his most popular character 'Himu' -- almost all wearing yellow panjabi and uttario (scarf) -- were visible at the 'Humayun Mela 2012' that was held yesterday at Channel i premises.
Marking the 64th birth anniversary (November 13) of noted litterateur Humayun Ahmed, Channel i held 'Humayun Mela 2012' at its premises. Ahmed's birthday was also celebrated as 'Himu Day'.
Litterateurs, poets, artists, journalists along with senior officials of channel i inaugurated the fair by releasing yellow balloons and festoons. Ahmed's widow Meher Afroz Shaon, Ahmed's sons Nishad and Ninid and the late litterateur's aunt Rizia Rahman were present at the inaugural programme.
The daylong fair also witnessed launching of a VCD titled "Himu'r Kotha". Songs written by Humayun Ahmed, along with his favourite songs, were performed at the fair.
An art competition for youngsters, dance performances by children and reminiscences were also part of the fair. Several stalls showcasing books by Ahmed along with DVDs and VCDs of TV plays and films directed by Humayun Ahmed adorned the fair. The magazine Ananda Alo published a special bulletin on the occasion of Humayun Mela.
Among the dignitaries, literary, theatre and cultural personalities -- poets Belal Chowdhury, Mohammad Nurul Huda and Asad Chowdhury; journalists Golam Sarwar, Abed Khan; veteran actors Ataur Rahman and Rahmat Ali; film personalities Amjad Hossain and Gazi Mazharul Anwar were present at the fair. Noted singers including Subir Nandi, Monir Khan, SI Tutul, Selim Chowdhury, Shahnaz Bely and Kuddus Boyati and his troupe performed songs on the occasion.
-----------------------------------------
Netrakona celebrates Humayun's birthday
Jahangir Alam, Netrakona
...........................................................
The 64th birthday of renowned writer and dramatist Humayun Ahmed was celebrated at his native village Kutubpur under Kendua upazila in Netrakona district on Tuesday noon. The day was celebrated at Shaheed Smriti Bidyapith at Kutubpur.
To celebrate the day a rally was brought out from the school, parading the main road in Kutubpur village and its adjoining areas.
After the rally, a discussion was held at Shaheed Smriti Bidyapith. Altufur Rahman, uncle of Humayun Ahmed, presided over the meeting. The headmaster of the school, Asaduzzaman; Dr. Saiful Islam Joy; and Kamal Ahmed were the discussants.
The speakers discussed the life of Humayun and his contributions to Bangla literature.
Later, Humayun's last film "Ghetu Putra Komola" was screened and a cultural programme was held by local artistes at the playground of the school. A medical team gave free treatment to the people of the area.
The day was also celebrated at Kendua upazila headquarter and at the writer's maternal uncle's house at Mohongonj in the district.