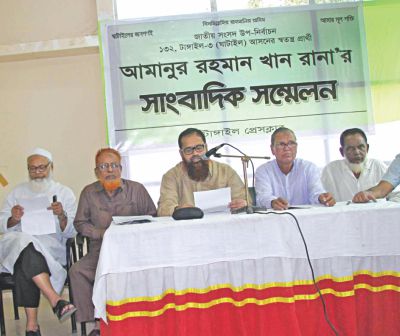 Ruling Awami League (AL) leader Amanur Rahman Khan Rana, contesting in Tangail-3 (Ghatail) by-election as an independent candidate, has alleged that an interest group from inside the government has been hatching conspiracy to make the election controversial.
"The naked conspiracy has started after it became clear that the ruling party nominated candidate will be defeated in the by-election," Rana, religious affairs secretary of Tangail district unit of AL, said at a press conference at Tangail Press Club yesterday morning.
"The law enforcers are raiding my election camps, houses of my workers and supporters regularly to create panic among them. They are ransacking the election camps and beating my supporters there," said the 'rebel' AL candidate.
"The law enforcers have arrested my chief election coordinator and former joint secretary of the upazila unit AL Masudur Rahman Azad, former upazila Jubo League president Sultan Mahmud Talukder Sujon and general secretary Kamruzzaman Jewel from their houses and sent them to jail after filing false cases against them".
"My workers and supporters are panicked as the AL nominated candidate Shahidul Islam Lebu and his men have been threatening them to send to jail if they take part in my campaign," Rana said.
Rana demanded immediate release of his workers and supporters and urged the administration including law enforcement agencies to perform their duty neutrally.
He also reiterated his demand for deployment of army to make the election free and fair.
The wives and children of three pro-Rana AL leaders -- Masudur Rahman Azad, Sultan Mahmud Talukder Sujon, and Kamruzzaman Jewel, arrested allegedly with arms by the law enforcers on November 10, also attended the press conference.
They termed the three leaders innocent and demanded immediate release of them.
"The law enforcers arrested my husband just for his stance in favour of Amanur Rahman Khan Rana in the by-election. Actually the law enforcers did not recover any arms from our house," Sohela Azad, wife of Masudur Rahman Azad, said at the press conference.
Among others, Tagnail district AL leader Atoar Rahman Khan, convener of the recently dissolved Ghatail upazila unit of AL Azmol Hossain, joint convener Hasan Ali, central leader of Bangladesh Chhatra League (BCL) Saniyat Khan Bappa spoke at the press conference.
Refuting the allegations made by Rana, Shahidul Islam Lebu said, "Actually Rana, who is accused in a number of criminal cases, has brought outsiders to threaten my supporters in the constituency. If the law enforcers were not active enough, my workers would not be able to make any move for election campaign."
The parliamentary seat fell vacant after the death of ruling AL lawmaker Dr Matiur Rahman on September 14.
The AL Parliamentary Board nominated Shahidul Islam Lebu, former general secretary of Ghatail upazila unit of AL, as the party candidate but Tangail district AL Religious Affairs Secretary Amanur Rahman Khan Rana is also in the polls race as an independent candidate.
Jatiya Party (Ershad) backed candidate Syed Abu Yousuf Abdullah Tuhin is another candidate in the by-polls.
No candidate from the main opposition BNP is contesting the election.
On November 4, a few central leaders of AL went to Ghatail and warned 'rebel' candidate Rana of expulsion from the party if he does not withdraw his candidature within three days while Rana on the same day declared that he will be on the polls race as a 'candidate of Ghatail people'.
The same day, Azmol Hossain, convener of Ghatail upazila unit of AL, and Hasan Ali, its joint convener, were expelled from the party for supporting 'rebel' candidate Rana and the convening committee of upazila AL was simultaneously dissolved.
Two days later, the central unit of Jubo League issued a letter, declaring the Ghatail upazila unit of the organisation dissolved.
The upazila unit of BCL was also declared dissolved a couple of days later.