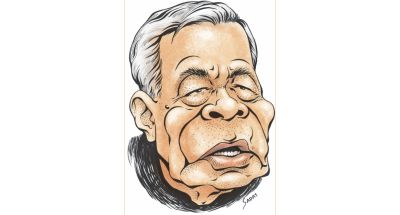 Police have suddenly become very curious about Delwar Hossain, the man who played a key role in launching the military-backed caretaker regime's anti-graft drive in 2007 as the Anti-Corruption Commission secretary.
They went to Delwar's Ashulia residence on the outskirts of the capital around 3:30pm yesterday and asked him to immediately meet Home Minister Mohiuddin Khan Alamgir.
Replying to his queries, the police officials told him that they had no complaint or arrest warrant against him.
The home minister had asked the former bureaucrat to visit his office or residence, Delwar told The Daily Star over phone.
Neighbours told him Thursday night that police had come and waited for him for about an hour when he was not home. He spent the night and the following day thinking that police would come again.
Later, two teams from Savar and Ashulia police stations showed up yesterday afternoon and pressurised him till 5:15pm to meet the minister.
Delwar told police that they could arrest him if they had warrant.
"I was not sure whether the home minister really wanted me to meet him," he said. "A minister doesn't ask any citizen this way to meet him."
"Why should police come with such an unofficial invitation? If I go with police and anything happens to me, who would take the responsibility?" he said.
Despite repeated attempts, The Daily Star could not reach MK Alamgir. According to his PS, his mobile phone was switched off as he was at the dinner in honour of the Belarusian prime minister last night.
Although police officials at Delwar's residence said they had no complaint against him, Officer-in-Charge of Savar Police Station Mohammad Asaduzzaman told this paper, "We have complaint that despite having wife and children, he lives here [Ashulia] after marrying a young girl."
Replying to a question, the OC said they had only verbal complaint but did not say who had lodged it. "There is a problem in disclosing the matter."
Asked why his men went to Delwar's house which is under Ashulia Police Station, Asaduzzaman hung up his phone and could not be reached anymore.
Delwar, who has been staying alone at a rented house at Sreepur village in Ashulia for the last six years, rejected the allegation of marrying again.
"I live alone in Ashulia due to personal problems. But there is no question of getting married again," he said. "If police or anybody else can show evidence of my second marriage, they are welcome."
Second Officer Sazzad Rumon led the team from Savar Police Station.
Contacted last night, he first denied going to Delwar's house. But later he admitted it when told that the OC confirmed this.
He, however, declined to say anything beyond what the OC had said.
When told that there were discrepancies between the statements of the OC and Delwar, the second officer said, "It doesn't matter what Delwar said; our OC's version is correct."
Ashulia Police Station OC (Investigation) Mostofa Kamal said they sent their men as Savar police had sought their cooperation without specifying the purpose.
Contacted, Delwar's wife Roushan Ara Begum, who lives with her two daughters and a son at a house in the city's Mohammadpur, said she did not file any written or verbal complaint against her husband.
Delwar, 58, went on voluntarily retirement as a rector at Bangladesh Public Administration Training Centre in 2011. Just before this job, he served as the land secretary.
He was made the secretary of the Anti-Corruption Commission in January 2007, when posts of the chairman and members of the commission were vacant.
Delwar, as secretary of the ACC, announced names of many bigwigs as corruption suspects as per the decision of the then military-backed caretaker government. He had also issued notices to many of them asking for wealth statements.
MK Alamgir, who was on the first such list of 50, submitted his wealth statement from prison after being detained along with other graft suspects.
After Awami League-led grand alliance came to power, Alamgir on many occasions criticised the 2007 ACC drives and activities of the caretaker administration.