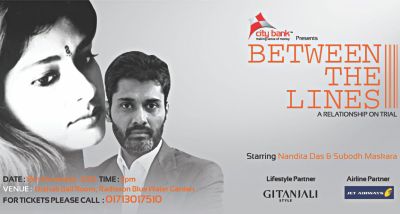 The Dhaka audience will witness famed Indian actress Nandia Das in a play, "Between the Lines", to be staged this evening at 7 pm at the Radisson Blu Water Garden Hotel, says a press release.
Das' husband and actor Subodh Maskara will be her co-artiste in the play, also directed by her.
"Between the Lines" is set in urban India where educated and affluent couples are caught between modernity and traditions. It explores the relationship between two lawyers, who have been married for 10 years. Shekhar is a high profile criminal lawyer while Maya, balances work and life by drafting routine contracts for a law firm. One day they accidentally end up being on opposite sides in an attempted murder case.
Shekhar is the prosecutor and Maya, the defense lawyer. As they fight the case in the court, their personal life starts getting impacted.
"Between the Lines" peels, layer by layer, what is said and also what is often left unsaid in a couple's relationship.
The play has been produced by Choti Productions. The City Bank Limited is the title sponsor. The other partners are Gitanjali (lifestyle), Jet Airways (airline) and Forethought PR (PR). The show is being organised by Excalibur Entertainment and Jatrik.