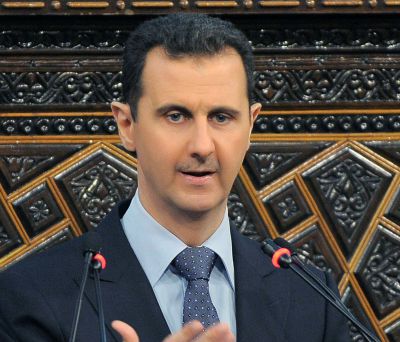 The main opposition Syrian National Council (SNC) has elected a new leadership as President Bashar al-Assad scotched any suggestion he might flee Syria vowing he would "live and die" in his country.
"I am not a puppet. I was not made by the West to go to the West or to any other country," Assad said in English in an interview with Russian state-backed Russia Today (RT) television.
"I am Syrian, I was made in Syria, I have to live in Syria and die in Syria," he said, according to transcripts posted on RT's website.
In Qatar, SNC said a president of the opposition coalition would be chosen today, after the 40-member general secretariat was elected overnight at a meeting in the Qatari capital.
On the diplomatic front, Turkey and Britain upped the ante against the embattled regime.
Britain is to review the EU arms embargo on Syria as part of a wholesale change in strategy in the wake of Barack Obama's re-election that could lead to the eventual arming of the rebel forces fighting to overthrow Bashar al-Assad.
As David Cameron said he would press Obama to make Syria a priority.
In another indication of regional tensions, Turkey confirmed that it is to make an official request to Nato to station Patriot missiles along its border with Syria.
The moves by Britain and Turkey both seemed to anticipate a bolder approach from Obama to end the conflict that has claimed an estimated 35,000 lives since the bloodiest of the Arab spring uprisings erupted in March 2011. On average 100 to 150 people now die every day.