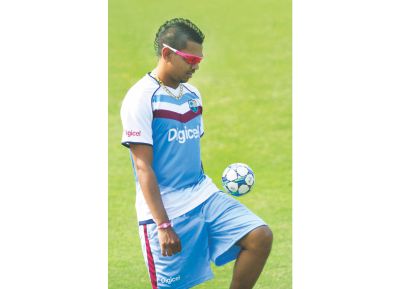 West Indian Off-spinner Sunil Narine has said that his 'friendship' with Bangladeshi all-rounder Shakib Al hasan will have to be kept aside when they go neck and neck on the field for the first match of the Test series which begins on Tuesday.
"We are good friends but when we are on the field, we'll give it our best for our own teams. I think he's a good player, good individual and gives out his heart and soul to the game," said Narine.
The spinner, originally from Trinidad and Tobago, played a couple of seasons at the Indian Premier League alongside Shakib. Most recently, the two players represented the Kolkata Knight Riders at the Twenty20 Champions League which took place in South Africa.
"I haven't discussed anything with the team management as yet (regarding Shakib's batting), but when the time comes, we'll see," said a calm-looking Narine, who had just finished training for the day.
The player, who started playing Test cricket in June this year, claimed that it wasn't too difficult to 'adjust' to the longer format of the game. "It is just the mindset, the way I go about what I'm doing. One has to be a little more consistent and a lot more patient. You have to bowl a lot more balls," said Narine.
He further stated that the conditions in Mirpur wouldn't make him change the way he approached his bowling. "We've been practicing for the last two days so I already have a mindset. I know what I'm capable of doing, so I think I just have to go out there and deliver the goods for West Indies."
The pitches at the Sher-e-Bangla National Stadium, which will be hosting the first Test between the two teams, saw some good bounce in the last couple of weeks, during the two rounds of the National Cricket League. As a result, a majority of the batsman struggled to score runs.
The 200-run mark in fact was crossed just once in the last seven innings of domestic cricket played in this stadium. Acknowledging the statistic, Narine stated that while any bowler would welcome bounce on the pitch, the main aspect would be to bowl in the right areas.
A water-logged ground at the BKSP cancelled the only warm-up game that the visitors were supposed to play before the series. Danger-man Narine although a little dejected, was confident that the team would perform well. "It was a little disappointing, but you have to turn away from that. I just want to go out there on the match day and give it my all," said Narine.
With just four more days to go Narine, who has so far mesmerised some of the best batsmen in the business, will soon have the chance to try to spin a similar web around the Bangladeshi players.