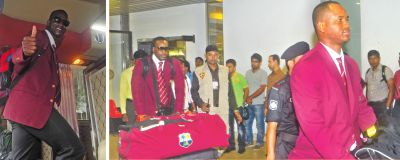 West Indian great Richie Richardson said that the Bangladesh tour will be an important one for the team to move up the Test rankings. The former West Indies captain who is currently the team's manager further stated that he expected the Bangladesh team to come ' hard' at them.
"We have been playing well in all the formats. We are working hard and taking no team for granted. There is still a long way to go for us, but as of now things are going good," said Richardson.
Earlier, a 23-member West Indian contingent received a rainy welcome at the Hazrat Shahjalal International Airport in Dhaka early yesterday morning. The team, led by Darren Sammy, will play two Tests, five one day internationals and one Twenty20 international over the next month.
They are scheduled to begin the tour with a three-day warm-up game at the BKSP against a strong 'BCB-XI' led by the national team captain Mushfiqur Rahim on Thursday. However, with the city expecting a rainy-week, the fate of the warm-up sessions and the three-day game remains uncertain.
Commenting on the Bangladesh team, Richardson stated that the Tigers are a competitive unit at home. "We are expecting a stronger performance from them this time as compared to last year. They have a number of good players who can change the scenario of the game if given the opportunity," added the manager.
The former batsman also claimed that the team management were quite 'content' with the current West Indian line-up. "The arrival of Chris Gayle has obviously made a difference," said Richardson, referring to the return of Gayle to the team, who didn't play for the West Indies for over a year till June this year due to certain contractual disagreements. "He is one of the most destructive batsman in any format of the game. We also have Sunil Narine who has been among the wickets recently. Verasammy Permaul is another talented player who is in the side," added Richardson.
Richardson also believed that the West Indies could replicate their T20 success in the Test arena. "Winning the T20 world cup has no doubt given us a boost. We have also won a number of fans. But we most certainly have players who can play good Test cricket.
This is the fifth series that the two teams will be contesting. The teams have so far played eight Tests against each other, with the West Indies winning four. Bangladesh won two away Tests in 2009 when they faced a weakened West Indies side. The visitors also hold the edge in ODIs as they have won 14 of the 20 matches against Bangladesh. In December 2011, the West Indies won the Test series 1-0 and the ODI series 2-1.