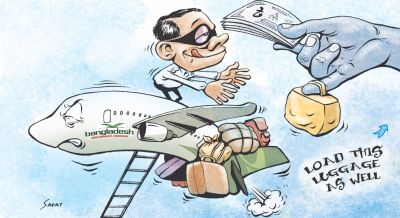 A section of Biman employees are helping transport tonnes of undisclosed cargo and luggage on Biman's international flights to make a quick buck, putting the aircraft's safety at risk.
A pilot of the national carrier told The Daily Star that before take-off, pilots are provided with information about the weight the aircraft is carrying. And according to that information, the pilots determine the take-off speed and make other calculations such as how much fuel is needed.
If pilots are given incorrect weight figures, it may render their calculations way off the mark and even force them to make unscheduled stops for refuelling, said the pilot.
Excess weight costs extra fuel for each flight, and pilots on several occasions had to consider emergency landing so that the aircraft doesn't run out of fuel.
A top official of Biman Bangladesh Airlines said pilots many times conveyed to the authorities their concern over the undisclosed weight on flights.
A few months ago, a pilot of a DC-10 aircraft told a meeting that he had faced a near-crash situation.
"It was supposed to take six minutes to climb to cruising altitude after take-off but it took me around 12 minutes due to the hidden weight," said a Biman official, quoting a pilot, who spoke at such a meeting.
In the first week of August, a Boeing 777-300ER aircraft on a London-Dhaka flight had to carry an undisclosed weight of around 5,000 kg.
A Biman source said the captain of that flight informed the authorities that 3,800 kilograms of extra fuel had to be used owing to either undeclared luggage or cargo.
Referring to the pilot's complaint, the source said that had the pilot not taken on extra fuel as precaution before take-off, he would have to make an unscheduled stop for refuelling.
Extra fuel means higher operation costs.
Wishing anonymity, a top Biman official said the national flag carrier would have made profits had it been able to stop such practices.
"We incurred a loss of Tk 195 crore last year but had we stopped this illegal practice of carrying extra luggage and cargo, we would have earned more than Tk 200 crore additionally every year."
For example, Biman would be deprived of around Tk 30 lakh a flight if staff at its UK station loaded 5,000 kg of undisclosed cargo, said the official.
Moreover, Biman would have had to count the cost of additional fuel -- Tk 3.67 lakh per flight – taking the jet fuel price at Tk 87 a kg.
The official said Biman allows passengers on its Dhaka-London route 30 kg of luggage and charges 28 British pounds (GBP) for each kg of extra baggage. It charges 1.09 GBP for each kg of cargo while cargo agents charge 4.5 GBP from customers.
Biman sources said officials allow carrying cargo on cash payments. In many cases, cargo officials give customers fake receipts and pocket a major portion instead of depositing those with the Biman's account.
An official said such corruption could be stopped if the authorities collected the charges for carrying cargo through banks. And a booth for banks could be opened at the Cargo Village at airports to facilitate customers.
Biman sources said this corrupt practice had been going on unabated at almost 18 foreign stations of Biman.
Wishing anonymity, a top Biman official said a section of influential people also play a part in it.
The official said influential people, including political leaders, compelled Biman staff to accept extra luggage. The total amount of such extra luggage is more than that the unscrupulous employees allow in exchange for money.
Acting Biman managing director AM Mosaddique Ahmed claimed that there had been only one or two incidents of carrying undisclosed cargo and luggage.
"We are identifying those responsible, and taking punitive action against them."
The punishment for such corruption is suspension, transfer or demotion, Biman sources said.