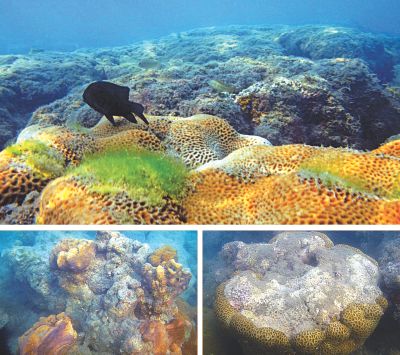 Corals under water around Saint Martin's Island are being destroyed by global warming, over exploitation and unplanned tourism.
Many of these now appear colourless and dead, said Anisuzzaman Khan, former biodiversity expert of International Union for Conservation of Nature, Bangladesh and Dubai municipality, who recently dived on the coral reef 22 feet under water around the island.
Ocean acidification and rise in sea temperature, both linked to global warming, cause corals to expel the algae that are photosynthetic and live within their tissues and upon which their survival depends as they exist together in a symbiotic relationship.
With the expulsion of the algae, corals lose colour and appear white, which is called coral bleaching.
This phenomenon cannot be controlled locally, he said, but the government can still play a role to save corals as coastal development and human activities causing pollution and sedimentation exacerbate the effects of climate change.
The Saint Martin issue should be given attention soon since 25 percent of all marine life depends on corals, Anisuzzaman added.
Corals, alive (soft) or dead (hard), provide protection and shelter for many different species of fish. Without coral reefs, fishes would have nowhere to live and spawn eggs.
Coral bleaching was first noticed at Saint Martin in 1998, Prof M Maruf Hossain of Institute of Marine Sciences and Fisheries, Chittagong University, said, "But we are yet to take any measure to save them."
Frequent tourist ships traveling to and from the island smother corals with layers of silt, biodiversity experts who dived in the water of the island said. Anchors dropped from the ships often hit the corals, damaging them, which restricts their further growth.
Besides, extraction of corals has increased for commercial purposes, which needs to be stopped immediately.
The coral species near the jetty at the island were almost ruined, said Anisuzzaman.
Bangladesh has around 65 species of coral, said Prof Maruf, who has been working on corals for years.
"But we do not even know of their distribution."
The government should follow other South Asian countries, like Sri Lanka, to save corals, Maruf said, adding Sri Lanka had stopped human interventions and replaced bleached or damaged corals with live ones to facilitate their growth.
As many as 94 species of fish are dependent on corals, Maruf said.
An urgent monitoring programme is required to save these precious marine resources of Saint Martin, experts say.
The temperature of the Bay of Bengal has significantly increased in the last four decades, raising acidification in the water and destroying many of the 22 species of corals available there, scientists say.
Exactly 0.45 degree celsius temperature has increased in the last 40 years, Ahsanuddin, a former reviewer of Intergovernmental Panel on Climate Change, said.
Excessive carbon dioxide emission that contributes to climate change also raises acidification in the ocean, albeit very low, but enough to destroy sensitive corals, he said.
It was learnt from several divers that honey comb corals on the east coast of Saint Martin are severely affected by coral bleaching.
The reef of Saint Martin is situated in the extreme southern part of Bangladesh, with more than 700 species of seaweed, corals, fish and other marine life forms.
Though the island was declared to be an ecologically critical area in 2003, no government agency has made an effort to conserve ecological resources in and around the island. On top of that, growing numbers of tourists are polluting and damaging the natural habitats of many species.