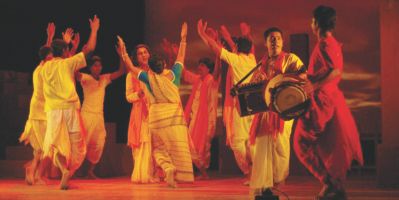 Three Bangladeshi plays were staged at a theatre festival held recently in Agaratala, the capital city of Tripura, India. The plays -- "Muktadhara" (by Theatre), "Apod" (Dhaka Padatik) and "Nishimon Bisharjan" (Mahakal) were staged at the five-day Rabindra Theatre Festival, organised by Tripura Sangskritik Shamannay Kendra. The festival started on September 28 at the local Nazrul Centre of Fine Arts.
Dhaka Padatik's "Apod" was staged on the opening day. Theatre staged "Muktodhara" on the following day, while "Nishimon" Bisharjan" was staged on the concluding day.
Golam Kuddus, chief of Dhaka Padatik and vice-president of Shammilita Sangskritik Jote, attended the inaugural ceremony as special guest. Manik Sarkar, Chief Minister, Tripura formally inaugurated the festival, while Dr. Anuradha Kapur, director, National School of Drama (NDC), India was the chief guest, according to Dhaka Padatik sources.
Adapted and directed by Masum Aziz, "Apod" narrates the story of the bond between a stranger and a caring woman who becomes a mother figure to him.
Theatre's "Muktadhara" has been directed by Naila Azad Nupur. The plot zooms in on a dam. In the play, although there is appreciation of the boons of the machine, Tagore reminds us that it is arrogance and the misuse of machine that leads to the sufferings of man.
Based on Tagore's "Bisharjan", Mahakal's "Nishimon Bisharjan" has been written by Anon Zaman and directed by Ashik Rahman. The play is a stand against extremism through a story from recent times.