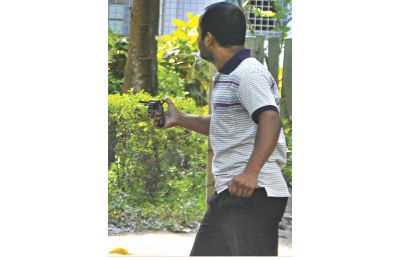 An expelled leader of the Bangladesh Chhatra League, who openly brandished firearms during Tuesday's clash at Rajshahi University (RU), yesterday went to Motihar Police Station in person and filed a case against Shibir men.
SM Towhid Al Hossain Tuhin, former organising secretary of Bangladesh Chhatra League (BCL), filed the case against 21 Shibir activists by name, with 100 others remaining unnamed, said Anisur Rahman, officer-in-charge of the police station.
The president and general secretary of the pro-Jamaat student organisation's RU unit were among the accused, he told The Daily Star over the phone.
When he was asked how a gun-toting man whose picture had been published in the media could leave the police station scotfree, the OC quickly put down the phone.
The OC also declined to talk to this correspondent when the latter went to the police station to meet him.
Tuhin, a third-year student in the department of finance and banking, was caught on camera by photojournalists of newspapers and television channels while he was shooting from his gun during the clash between the BCL and Shibir men.
The Daily Star published a photo in its yesterday's issue showing how plaintiff Tuhin was holding an iron rod and also aiming a pistol at his rivals.
When asked for his comment on how Tuhin had remained untouched, M Obaidullah, commissioner of Rajshahi Metropolitan Police (RMP), said he was on leave and knew nothing about it.
On the same question, RMP Additional Commissioner M Moniruzzaman expressed surprise saying, "Is Tuhin the plaintiff of the case? How so? I will check on the matter."
Tuhin was expelled from the BCL RU unit following his alleged involvement in the killing of the pro-Awami League student body's Sher-e-Bangla Hall unit joint convenor Abdullah Al Hasan on July 16.
"Do you want us to be shot by Shibir men?" asked Tuhin while talking to The Daily Star.
He claimed that Shibir men were also carrying firearms, but media men had failed to photograph those scenes.
Ashraful Alam Emon, Shibir RU unit president said, "Tuhin was exposed before the media men but despite that he filed the case against Shibir men. It is clearly a false case".
Meanwhile, RU Vice-Chancellor Prof M Abdus Sobhan, at a press conference at the Senate Building in the afternoon, said "At present, our challenge is to hold the admission tests successfully.
"After the admission process, we will identify the students who had carried firearms during the violence after scrutinising video footage."
BCL activists were also embroiled in a clash with Shibir activists at Dinajpur Government College early yesterday. In the aftermath of the clash, the college was shut down for an indefinite period.