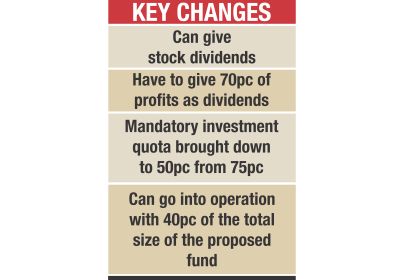 The Securities and Exchange Commission has moved to allow mutual funds to give stock dividends to their unit holders.
The present cash dividend payout structure will remain effective as well.
However, the asset management companies (AMCs) and mutual fund managers will have to give at least 70 percent of the profit as dividends.
Stock dividend, popularly known as bonus dividend, is a payment made in the form of additional shares, rather than a cash payout.
The SEC posted the proposed changes on its website for public opinion before a final approval.
Another proposed amendment made by the SEC is bringing down the mandatory investment quota on stockmarket from the existing 75 percent to 50 percent.
The move comes after the Asian Development Bank and some AMCs suggested giving more flexibility to mutual funds' investment options.
"It is positive for the AMCs as they can diversify their portfolios to give better dividends to the investors," said Fayekuzzaman, managing director of Investment Corporation of Bangladesh.
AMCs should make the other half of its investments in other profitable sectors, added Fayekuzzaman, also a director of the Dhaka Stock Exchange.
The AMCs submitted a proposal to the SEC to reduce their mandatory investment quotient on stockmarket following the declining trend of the market, which was compromising their fund value.
"The mutual funds will be more dividend-friendly if they are able to invest a significant portion of their funds outside the capital market," the AMCs said in their proposal.
Furthermore, open-ended mutual funds will able to go into operation by collecting 40 percent of the proposed size of the total fund, which was previously 60 percent.
A mutual fund is a professionally managed collective investment scheme that pools money from many investors and invests them in stocks, bonds and short-term money market instruments.
Presently, there are 41 listed closed-end mutual funds and 17 AMCs are running their operation.
Race managed 45 percent of the total mutual fund industry, while LR Global 18 percent, ICB AMCL 14 percent and Aims of Bangladesh 13 percent.