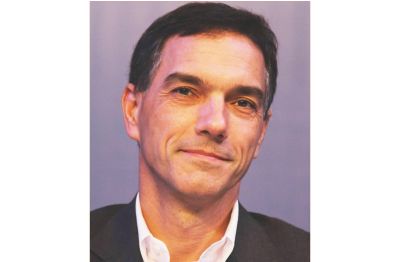 Michael Zink
Bangladesh should acknowledge Southeast Asia as a potential market to exploit the tremendous growth the region is going through at present, a top foreign banker said.
"You have got good products to sell," said Michael Zink, Citibank's country head for Singapore.
He said everybody talks about the BRICs -- Brazil, Russia, India, China and South Africa -- but the Asean countries are not too far behind.
"Bangladesh is a neighbour to India. China is right next door. Your other neighbours are the Asean market, which have a two trillion US dollar GDP [Gross Domestic Product] and a population of 600 million."
Asean, short for Association of Southeast Asian Nations, is a geo-political and economic organisation of 10 countries: Brunei, Cambodia, Indonesia, Laos, Malaysia, Myanmar, Philippines, Singapore, Thailand and Vietnam.
"The region is integrating in a very meaningful way. It is a huge opportunity for Bangladesh, a fantastic market right next to your door."
Bangladesh, however, needs to recognise the Asean as a market first to be able to tap the potential of the region.
"You need to look at it as a whole and not as separate entities. That is the first step."
Japan, Korea, Australia, China, India and New Zealand have all signed free trade agreements with Asean as a bloc.
The growing number of educated people, its hard-working labour force and the proximity to the Asean market which is growing at 6 percent per annum, according to Zink, could be the drivers of Bangladesh's economy.
He said the volume of trade between the Asian countries is one of the fastest growing in the world, and Bangladesh is at the crossroads of three huge markets -- China, India and Southeast Asia.
"It is not about Bangladesh competing with its neighbours, as the whole region is rising. It is capturing some of the growth that Bangladesh is well-positioned to do."
He, however, added that it is not sufficient to be a solely export-driven economy; Bangladesh's economy needs to be domestic-demand-driven as well.
Zink was in Dhaka this week to attend the Citi Microentrepreneurship Awards programme and launch two community projects aimed at helping the underprivileged children.
The 53-year-old said Bangladesh needs to publicise the progress it has made as a country to woo in foreign direct investment (FDI), as investors' image of the country could be outdated.
"Bangladesh will have to tell the global investors why they should invest in the country and not somewhere else. The country will have to make the case that it is a good location for doing business."
"The story has to be told, in a compelling manner. Investors will not necessarily look around," Zink said, while adding that Citi can relay Bangladesh's successes and potential to the world.
"They [investors] are all our clients. That is what we have been doing in the last 200 years -- connecting people and investors with the opportunities. I think that is a contribution Citi can make to Bangladesh."
Zink, who has been with Citi for 24 years now, said the financial sector of Bangladesh is a good story to tell the world.
"The currency is strengthening and stabilising, which is important. Exports and reserves are up. GDP growth is 6 percent, one of the best in the world. Inflation is coming down. All these things help predictability."
Bangladesh, however, has to give some assurances of its environment in the next five years to attract FDI, as investment takes place on a medium- to long-term basis.
Zink, who holds an MBA from the Kellogg School of Management of Northwestern University, said Citi can share its ideas and experience with Bangladeshi banks as they gear up to adopt the BASEL-III.
"BASEL-III will make it difficult for banks to give long-term assets, long-term dividends and long-term project finances and loans. It will become more expensive under the BASEL-III, so it is important to strengthen the capital base."
One of Bangladesh's biggest needs currently is infrastructure investment.
"For all the infrastructure needs of a fast growing economy they have to reach out to the international capital markets. They will have to find investors who will bring money in, help build the infrastructure. That is something Citi has done very well."
"Bangladesh has good entrepreneurs, but the country lacks when it comes to mid-level management."
Citi, which stepped into its 200 years of operations this year, navigated through a myriad of crisis during that time, but the last few years' have been some of the toughest.
"But both during the Asian financial crisis of 1997-98 and the recent financial crisis we have not only survived, we have helped countries and companies get through it."
He said there is no need for Citi to realign itself following the shift of global epicentre to Asia -- as it already has a considerable presence in the region.
"We have been here [in Asia] for 110 years now. It is a matter of anticipating the growth and having our bank in each of its markets appropriately."