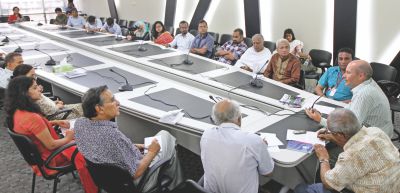 Bangladesh offers an example to the rest of the world as a moderate Muslim majority country although the country faces an array of tensions and issues, said David Lewis, a leading British academic and author, yesterday.
"We live in a post 9/11 world, which has generated a huge degree of anxiety around the world, particularly in the West. But here in Bangladesh, we have a stable, Muslim majority democratic country with a unique blend of religious, national and cultural identity," said Lewis, who is currently professor of social policy at the London School of Economics and Political Science.
"Of course, there are a lot of tensions and issues here. But the big picture is one that offers an example to the rest of the world," he told a discussion at The Daily Star Centre on his recent book, "Bangladesh: Politics, Economy and Civil Society".
Lewis said the 233-page book, published by Cambridge University Press, was primarily written for an international audience and aimed to send out an optimistic and positive message about Bangladesh. He noted that his book was a contemporary work written with a focus on economics. He felt that Bangladesh ought to receive more than attention in the outside world than it had so far.
The book documents Bangladesh's struggle for independence and its emergence as a fragile, but functioning, parliamentary democracy and examines the country's economic, political and social changes in the last 20 years. Prof. Lewis was of the opinion that the War of Liberation in 1971 was part of the process of a re-creation of the post-colonial order. Describing the struggle for democracy and its triumph in 1990 as an event predating the so-called Arab Spring, Lewis told the audience that his book had highlighted the successes Bangladesh had made in agricultural production and in ensuring better disaster preparedness. Bangladesh's civil society, he observed, had a uniqueness in that it was an incubator of ideas and practices. Civil society, he added, was always a force for good.
Editor and Publisher of The Daily Star Mahfuz Anam thanked Lewis for his interest in Bangladesh.
Columnist Syed Abul Moksud, Sujan General Secretary Badiul Alam Majumder, The University Press Ltd Managing Director Mohiuddin Ahmed, and The Daily Star Executive Editor Syed Badrul Ahsan, among others, also spoke on the occasion.