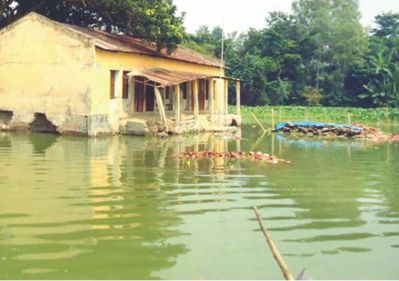 Academic activities at 25 primary schools in three upazilas of Pabna have remained suspended for the last one week as the institutions are still under flood water.
Of the schools, 20 are in worst affected Faridpur upazila, three in Bhangura upazila and two in Bera upazila.
Md Nasir Uddin, Faridpur upazila primary education officer, said flood water from 20 schools in two unions of the upazila is yet to start receding as the Padma and Jamuna continued to swell.
Though classes of two or three of the affected schools are being held at safer places, attendance of the students is very thin, he added.
Md Ariful Islam, acting headmaster of Hat Udhunia Government Primary School in Bhangura upazila, said they could not hold classes for the last one week as the school got waterlogged.
District Primary Education Officer Md Ekramul Haque said the flood-hit schools are not officially closed. Teachers of these institutions are trying to continue academic activities at safer places, but presence of the students is very poor, he added.
Upazila education officers have been asked to submit reports on the affected schools as early as possible, he further said.
In Bogra, fresh areas in three upazils of the district have been inundated due to onrush of water from the upstream, according to a correspondent.
A flood control embankment collapsed yesterday morning, flooding 176 villages in 26 unions of the three upazilas. Water Development Board (WDB) sources said over two lakh people in the low-lying areas of the upazilas are marooned
The Jamuna and Bangalee rivers were flowing 54 cm and 85 cm above the danger mark yesterday morning, the WDB sources said.
According to the district agriculture extension department, aman and vegetables on over 11,370 hectares of land in the upazilas have gone under water.