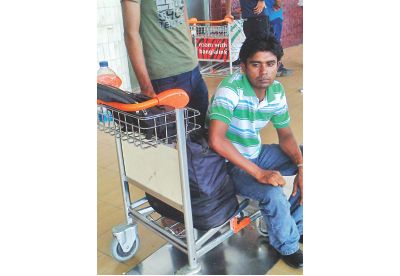 Expatriate Shariful Islam yesterday noon was sitting on a trolley dumbstruck with his luggage near an exit gate at Shahjalal International Airport.
If he fails to pass Jeddah Airport Immigration before the clock strikes past 12 noon today, his re-entry period will expire. Therefore, he would no longer be allowed to enter Saudi Arabia and join his job which he has been doing for the last 10 years.
And the consequence is obvious: a family of five members that depends on his earning will plunge into deep trouble, anticipates the man of forty.
He left no stones unturned. On Tuesday and Wednesday, he approached every desk of the Biman officials concerned, pleading them for his departure to Saudi Arabia in time, but to no avail.
"My flight time was at 11:45am on Tuesday. I waited at the airport the whole night, went to every Biman official and begged them to ensure that I could fly. But my appeals remained unheard," he said.
Shariful's desperation turned into anger, and gradually to frustration, as he was helpless. He even decided not to go to Jeddah and returned to his home in Kushtia on Wednesday.
"I passed sleepless night at the airport and without food. I continued my efforts to convince the officials until 2:00pm on Wednesday, but all my efforts went in vain. At one stage, I decided not to go to Saudi Arabia," he said.
However, Shariful had to return to the airport one day later as his family members and relatives had convinced him that they would be in deep trouble if he did not go abroad.
In his 30s, Shariful, hailing from Daulatpur Upazila of Kushtia, had flown to Jeddah around 10 years back selling out three bighas of his ancestral land. He said now they had only the homestead. He works as an electrician in Jeddah.
"Now my family lives on the money I send from Saudi Arabia. I had deposited around Tk 5 lakh, which I gave to a manpower broker to bring my younger brother to Jeddah. But the broker misappropriated the money," said Shariful.
He still does not know for sure when he would be able to board the Jeddah-bound Biman flight as the national carrier has been in a schedule mess since September 12.
The massive timetable chaos, seen for the first time, has already shattered the travel plans of several thousand Biman flyers, mostly Middle East-bound passengers.
The ambitious plan of the Biman authorities to carry around 57,000 hajj pilgrims to earn a big amount without proper back-up aircraft is the main reason behind the schedule disaster.
The hajj flights, however, are flying on time.
Visa period of some people have already been expired, alleged the stranded passengers, while many were in grave uncertainty as to whether they would be able to go to their destinations before their visa period expired.
Shariful also said he saw a passenger fell unconscious at the airport on Tuesday as his visa period expired by the time. He, however, could not give details of the passenger.
Many of the passengers were shuttling between the airport and hotels and relatives' residences in the capital as the Biman officials were deferring flight schedules several times.
During a visit to the airport in the early hours and at noon yesterday, this correspondent found several hundred passengers waiting inside and outside the lounge.
"I came to the airport on September 14. After getting several extensions, I was told that my flight has been rescheduled for Sunday. As I came again on that day, the Biman officials told me that my flight was rescheduled for September 19," Hasina Begum, who works at a Madrasa in Kuwait, told this correspondent around 12:45am yesterday.
Like Hasina, Hazera Begum and her daughter Asma who work as domestic helps in Kuwait, were also waiting outside an entry gate anxiously as the Biman officials had promised them of sending on the scheduled time at 3:00am.
Contacted over phone last morning, a shocked Hazera said none of them could fly. So she and her daughter returned to Nababganj of Dhaka in the morning as the Biman officials deferred the flight schedule for Friday (today).
In a latest development at 1:30am today, Shariful Islam told The Daily Star over the phone that his flight for Saudi Arabia was scheduled for 2:30am.