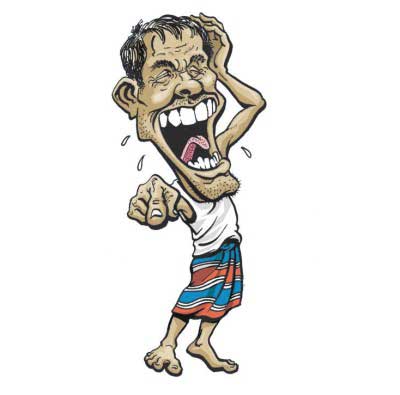 Pakistan has ranked higher than Bangladesh in the World Happiness Report 2012, holding the 85th position against our 104th. Even India lagged behind in the 94th position despite Pakistan's reputation as a country rife with terrorism, religious extremism, political violence, and corruption. Which leads us to this rightful question. What is happiness if contentious politicians, suicide bombers and trigger happy gunmen can make a happier country?
Occupied and war-torn Iraq has also topped Bangladesh in the 98th position. How does it make sense, particularly when the conclusion goes against the very grain of premise? "While basic living standards are essential for happiness, after the baseline has been met happiness varies more with the quality of human relationship than with income," the report read. The quality of human relationships in countries going through violent political and sectarian upheavals is as contradictory as a cheating husband being honest.
The report cannot be underestimated. It's the work of a team of experts commissioned for a United Nations Conference on Happiness, under the auspices of the UN General Assembly. Columbia University's Earth Institute prepared the report, edited by none other than its director, Jeffrey Sachs, and two happiness experts, Richard Layard of the London School of Economics and John Helliwell of the University of British Columbia. It was published in the first week of last month.
The rankings have been done on a scale of 0-to-10, based on what is called "life evaluation score." The happiest four countries in the world are Denmark, Norway, Finland and the Netherlands with an average score of 7.6. The other extreme of the spectrum has the most miserable four: Benin, Central African Republic, Togo and the Sierra Leone with an average life evaluation score of 3.4. Pakistan scored above 5, India barely touched 5 and Bangladesh fell short at around 4.8.
Bangladesh's percentile ranking in happiness is roughly 67 amongst 156 countries. That puts the country in the dilemma of someone waiting in a long queue; he cannot decide whether he should worry about how many people are ahead of him or find satisfaction in how many people are behind him. Roughly 67% countries are happier than Bangladesh, 33% being more wretched.
Now what goes into the "life evaluation score?" It's a measurement that includes such factors as health, family and job security as well as political freedom and government corruption. This time measurement used a different approach. Instead of treating happiness as a correlation between personal contentment and income, the economists focused on other factors.
John Helliwell, a co-editor of the report, listed those other factors as "family and friends, good health, material sufficiency, freedom, and the pleasure of living in a justifiably trusting community and nation." The ranking tells us that we have performed poorly on those counts compared to even countries which are virtually living in a state of war. It's not that the report could be wrong, but somewhere it fails to make the logical connection.
True, Bangladesh has its share of political challenges. It also has social disorders: corruption, crime, poverty, and population burden. Yet an earlier World Happiness Survey conducted in 2005 by Richard Layard of London School of Economics, who is also one of the editors of the 2012 happiness report, found that Bangladesh was the happiest nation in the world, when the United States ranked 46th and the UK 32nd. The survey was published as a book by the Penguin Press. Back then India was the 5th happiest nation, while the people in most rich countries including Austria, Netherlands, Switzerland, Canada, Japan and others proved much unhappier than their poorer counterparts in countries like Armenia and the Dominican Republic.
Why did Bangladesh top the list back then? The survey showed that people in this country, one of the poorest in the world, derived far more happiness from their small incomes than people in more affluent countries did from their relatively large bank balances. That survey, if you ask me, made more sense, because happiness is rooted more in wanting what you have than having what you want. You can buy a bed with money, as the saying goes, but you cannot buy sleep unless you mean to spend your money on sleeping pills.
In the Peanuts gang, a comic series by American cartoonist Charles M Schulz, its characters Lucy, Snoopy, Charlie Brown and others defined happiness as a warm puppy. The Beatles believed happiness was a warm gun. U.S. statesman and thinker Thomas Jefferson ranked happiness third in priority after life and liberty. But English writer G.K. Chesterton thought happiness was like religion; any attempt to explain was going to destroy it.
That's what must have happened between 2005 and 2012. Nations fighting for something are happier than us, because we are happily fighting for nothing.
The writer is Editor, First News and an opinion writer for The Daily Star.
Email: badrul151@yahoo.com