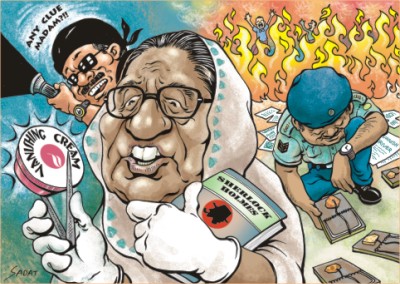 Twenty-two people have so far disappeared this year, raising concern as people suspect law enforcers' involvement, said rights organisation Ain O Salish Kendra.
Of them, no-one was found -- dead or alive.
As many as 51 people went missing last year while the number was 30 in the year before. Of them, 21 were found dead either by law enforcers or other people. In 2009, only two people went missing.
The people disappeared include activists or members of both ruling and opposition parties as well as people with no political affiliation.
Rights bodies Odhikar and Ain O Salish Kendra in their reports largely blame police, Rapid Action Battalion (Rab) and intelligence agencies for the disappearances.
The law enforcement agencies are losing their credibility as victims' families are pointing an accusing finger at law enforcers. The law-enforcement agencies, however, have been denying responsibility all along.
Rab's Director General Mokhlesur Rahman rejected the allegation of the elite force's involvement in any such case.
"We are designated to maintain law and order by ensuring security of people. And we always try to rescue abducted people. Why would we be involved in such acts?" Mokhlesur told The Daily Star.
"It's true in many cases that law enforcers could not rescue the victims. But it's not true that we were behind the abductions," he added.
However, people's speculations about law enforcers' involvement were renewed after former lawmaker and BNP Organising Secretary M Ilias Ali along with his driver Ansar Ali went missing around April 17 midnight.
Ilias' wife Tahsina Rushdir and Ansar's wife Mukta Begum in separate public statements urged the government and different law- enforcement agencies to return their husbands.
The main opposition BNP alleged that the government and different intelligence and law-enforcement agencies were involved in the April 17 incident.
Such allegations are not new.
Jesmin Akhter, daughter of Habibul Hawlader, a fisherman at Morelganj in Bagerhat, said police picked up her father at their house on June 6 last year. The family is still clueless about him.
Talking to The Daily Star on December 10 last year, Jesmin said, "Even death in crossfire is better than disappearance, because the victim's family at least gets the body. But I do not even know whether my father is dead or alive."
Like Tahsina Rushdir, Mukta Begum, and Jesmin, many others are spending their days and nights with uncertainty about the state of their beloved ones.
On October 2, Awami League leader Abdul Karim was picked up at his Pallabi house; on November 28, Jatiyatabadi Chhatra Dal leaders Shamim Hasan Sohel and Ismail Hossain were picked up at Hatirpool; on November 17, seven people were picked up at Malibagh; on December 8, four vendors were picked up at Mirpur; on September 29, Bangladesh Students Union leader Shamim Hasan was picked up at Purana Paltan; on October 20, ward-20 unit Awami League leader Nur Mohammad was picked up at Savar; and on December 3, his son-in-law Abdul Mannan at Shyamoli.
Ain O Salish Kendra Investigation Cell Director Noor Khan said, "We find it alarming that the cases of disappearances are rising. We urge the government to take action to prevent the law-enforcement agencies from engaging in such incidents and to rescue the abducted people."
National Human Rights Commission Chairman Mizanur Rahman at a function on Saturday said the commission had probed a number of cases of disappearance and found law enforcers' involvement in one or two cases.