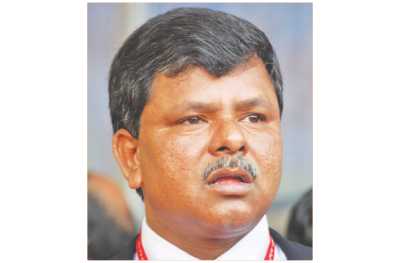 Rab and police conducted a joint operation at Pubail in Gazipur yesterday to locate missing BNP leader M Ilias Ali but found no trace of him.
Law enforcers conducted the nearly four-hour operation based on information provided to Ilias' wife by an unknown caller, Commander M Sohail, director of Rab Legal and Media Wing, told The Daily Star last night.
Rab said it took Ilias' wife Tahsina Rushdir with them during the operation.
But Tahsina told reporters last night that she did not go anywhere with Rab, raising questions about the joint raid.
She made the comment after meeting BNP Chairperson Khaleda Zia at the latter's Gulshan office at around 10:45pm.
Earlier, BNP activists resorted to vandalising vehicles and arson that cost a bus driver his life on the eve of today's hartal to protest the disappearance of BNP leader Ilias Ali,
Talking to reporters, Tahsina said, "I did not accompany members of law enforcement agencies during their drive. I am tired."
BNP insiders told this correspondent that Ilias' wife informed the BNP chief about the discussions between her and law enforcers over her husband's disappearance.
"She [Ilias' wife] called on madam [Khaleda Zia] and talked about his husband's disappearance," acting BNP secretary general Mirza Fakhrul Islam Alamgir told The Daily Star last night without giving any details.
Asked about the operation, Rab Commander Sohail said, "Ilias Ali's wife phoned us in the afternoon and told us that an unknown person over the phone gave her information about her husband's whereabouts."
Quoting Ilias' wife, Sohail said: "He was kept confined in a house at Pubail, Gazipur."
Rab and police searched a two-storey building and the surrounding areas at around 5:00pm but could not trace Ilias or his driver.
Ilias Ali, former lawmaker and BNP organising secretary, and his driver Ansar Ali went missing on April 17 night from city's Banani area.
During the sporadic pre-hartal violence yesterday, hartal supporters torched six buses in the capital and vandalised 10 vehicles in Sylhet, the hometown of Ilias. The violence on the streets sent a wave of panic among city dwellers and elsewhere in the country.
Police also arrested seven leaders and activists of BNP during a clash in Dohar on the outskirts of the capital yesterday morning.
BNP Chairperson Khaleda Zia yesterday asked her top leaders to stay active during hartal hours today. Her party believes that Ilias was picked up by a government agency.
BNP acting secretary general Fakhrul Islam Alamgir also called upon party activists to make today's hartal a tough one and warned the government that they would declare non-stop hartals if it tried to prevent the hartal from being observed today.
Components of the recently formed BNP-led 18-party alliance also extended their support to the hartal.
Despite the prime minister's directive and BNP's mounting pressure, the law enforcers were able to make no progress in locating Ilias, a BNP organising secretary, and his driver Ansar Ali who appeared to have been abducted from Banani in the wee hours of April 18. Police found the car of Ilias abandoned near his Banani home.
Unidentified hartal supporters around 2:15pm yesterday set fire to an inter district bus parked near Khidmah Hospital at Khilgaon. The driver of the bus, Badar Ali, 42, was taking a nap inside. He died, Khilgaon police told The Daily Star.
"The driver was sleeping and was burned alive inside his vehicle and the helper sustained minor burn injuries as pro-hartal supporters set fire to the bus," a witness told The Daily Star.
Six more buses were torched--one near Eden College at Azimpur, one at Abdullahpur Beribadh, one at Gulistan, one at Victoria Park near Sadarghat, one at Darussalam and another at Farmgate Police Box, fire brigade officials said.
The capital's busy areas looked a lot less busy yesterday with city dwellers worried over pre-hartal violence. There were hardly any traffic jams in congestion-prone areas of the capital yesterday afternoon.
The number of public vehicles on the street was very small, especially in the evening when bus owners took their vehicles off service fearing vandalism and torching of vehicles. Many city dwellers were seen stranded at bus stops waiting for transport.
Dhaka Metropolitan Police Commissioner Benazir Ahmed said law enforcement agencies would take a strong stance to fend off any violence during hartal hours today.
He was talking to reporters after holding a meeting on the security measures during hartal with top police officials at Rajarbagh Police Lines.
He said, "We will do anything necessary for ensuring security of the people." Special Weapons and Tactics (Swat) unit under the Detective Branch of police would also be deployed to maintain law and order, he said.
In Dohar, on the outskirts of the capital, police arrested seven BNP leaders and activists during a clash between BNP men and police. The BNP Dohar unit had brought out a procession protesting the disappearance of Ilias Ali.
Alamgir Hossain, officer-in-charge of Dohar Police Station, said the clash erupted around 10:00am when the BNP men brought out the procession defying police resistance.
At one stage police charged truncheons on them, the OC said.
In Sylhet, opposition activists after a rally vandalised at least 10 vehicles at the city's Zindabazar-Chouhatta area yesterday afternoon.
The district and city units of BNP had brought out a procession from the court area around 4:30pm which ended at Chouhatta with a rally.
After the rally, a group of young men resorted on vandalism on the road between Chouhatta and Zindabazar, witnesses said. Panic-stricken shopkeepers closed shops immediately.
However, police reached the scene later on and prevented further trouble.
Around 2,000 BNP activists brought out a procession from Biswanath upazila in Sylhet. The procession paraded four kilometres on Dhaka-Sylhet highway at Rashidpur. The BNP activists also barricaded the highway for about 20 minutes around 5:00pm causing a serious traffic jam. They vandalised a truck there.
Meanwhile, during a press conference at the Jatiya Press Club, Bangladesh Motor Drivers Dal, a pro-BNP professional drivers' organisation, demanded that the government returns Ilias' driver Ansar Ali and Omar Faruq, driver of former railways minister Suranjit Sengupta's former assistant personal secretary, who had been missing since April 9.