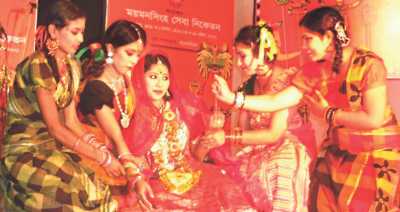 Three dance dramas including "Mahua", a major part of Mymensingh Geetika,"Kamala Sundari" and "Nakshi Kanthar Math" of poet Jasim Uddin enthralled the audience recently.
The dance dramas were staged at a two-day programme undertaken by Mymensingh Sheba Niketan, a socio-cultural and non-political organisation at the Town Hall premises to welcome the Pahela Baishakh.
Secretary of Mymensingh Sheba Niketan Dr. Hossain Ahmed Golandaj inaugurated the celebrations, the first of its kind in the town.
Written by Kabi Dwiza Kanai, a prominent palakar of Mymensingh Geetika, the dance drama "Mahua" was conceived by Mohatar Hossain Bachhu and Professor Abdur Rashid Miah.
"Mahua", has been directed by S.M Mizanur Rahman. The artistes of Sandipon Sangskritik Sangstha, a leading cultural group of the town staged the production.
"Kamala Sundari", a dance drama based on the folklore of Mymensingh region was staged by Sargam Lalitakala Academy from Kishoreganj. The drama has been directed by Sandeep Roy.
"Nakshi Kanthar Math" was staged by Nrityagan, a dance school of the town and directed by Maksudul Alam Milton.
A performance of Baul songs and more followed.
Eminent eye specialist Dr. Harisankar Das, Dr. Samaresh Kundu, secretary of Bahurui Natya Sangstha Shahadat Hossain Khan Hilu, president of Lokkristhi Sangstha Mirza Abul Kashem Beg and its secretary Dr. Nurul Amin and vice-president advocate Abul Kashem; veteran journalist Ziauddin Ahmed, RKM Nazim-ud-Dula and freedom fighter Hafizur Rahman, among others were present at the two-day programme.
The speakers said that the programme organised by Mymensingh Sheba Niketan would be organised in future. The huge rush of people at the two-day programme has encouraged us greatly, they added.