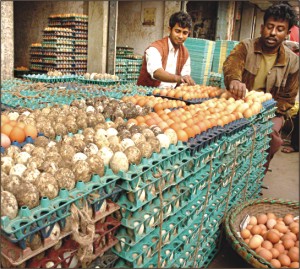 The government is contemplating setting up 17 laboratories across the country, including one in Chittagong, with the financial assistance of USAID for screening bird flu properly.
Fisheries and Livestock Secretary Syed Ataur Rahman disclosed this at a meeting of the stakeholders on bird flu situation and to review the precautionary measures taken so far to tackle the menace.
The meeting prohibited carrying of poultry birds and their eggs to and from Chittagong for the next 15 days.
Director general of Livestock Department Sunil Chandra Bose, Chittagong Divisional Commissioner, Hossain Jamil, Deputy Commissioner, Ashraf Shamim, Member-Secretary of Chittagong Poultry Industry Association Rakibur Rahman Tutul and poultry farm owner, Mohammad Iqbal, among others, spoke at the meeting.
Upazila nirbahi officers (UNOs), district and upazila level officials of Livestock Department and a good number of poultry farm owners participated in the meeting held at Chittagong Circuit House conference room in the morning.
Addressing the meeting, the fisheries and livestock secretary said all stakeholders of the sector should come forward to supplement the government's efforts to tackle the situation.
He urged the poultry farm owners to take steps to ensure area-wise bio-security together with small traders.
He also requested them to conduct a weeklong assessment programme with the help of experts of Chittagong Veterinary and Animal Science University to ascertain the overall state of bird flu in greater Chittagong.
Earlier, the fisheries and livestock secretary along with the officials visited the Karnaphuli Market in the port city to see the precautionary measures taken in combating the bird flu.