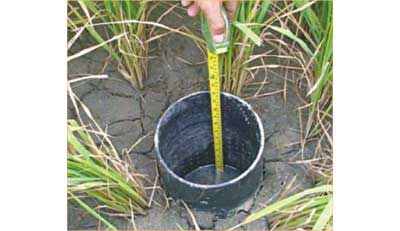 Production cost of rice can be slashed by one-fourth through coordinated application of some farming technologies, but steps are yet to be taken for their large-scale use across the country.
Guti urea (fertiliser), alternate wetting and drying (AWD) and buried pipe technologies -- developed years ago -- are now used in around 15 lakh hectares out of some 150 lakh hectares of land usually under rice cultivation.
When these methods are applied, output increases with reduced input, thus cutting production cost.
Yet these never got due attention from successive governments.
Agriculture scientists, rice researchers and officials concerned gave out this information when contacted by The Daily Star.
Isolated use of one of the three technologies cuts production cost by 10 to 15 percent, but combined use of guti urea and AWD or guti urea and buried pipe methods reduces it by up to 25 percent, agriculturists said.
The issue is now getting focus since production cost of paddy this Boro season could be over Tk 650 a maund because of increased diesel and urea prices while paddy now sells at Tk 550-600 a maund.
The price of diesel, used for irrigation pumps, went up by 30 percent in the last one year and urea price increased by 40 percent.
CQK Mustak Ahmed, who was agriculture secretary for about three years till he was transferred to the home ministry recently, said the three farming methods were not taken seriously earlier but the authorities are now working to ensure their large-scale use. He, however, mentioned that a massive programme involving huge funding was required for this.
Guti urea (the other type is prilled urea) technology was introduced in the country in the 1980s and promoted by the US-based International Fertiliser Development Centre (IFDC) in collaboration with the Department of Agriculture Extension (DAE).
It reduces use of urea fertiliser by about 40 percent and raises rice output by 20 percent. Despite this, it was used only in 5.95 lakh hectares out of 48 lakh hectares during the Boro season, which sees the highest yield among the three rice seasons, in 2010-11.
Guti urea is placed beneath the soil in a paddy field only once in a season. It ensures adequate nutrients for paddy plants and reduces weeds, said AKM Farhad, director of DAE's guti urea expansion project.
To use guti urea, farmers have to plant seedlings in lines. This ensures more sunlight. All these result in increased yields. The method can be used in around 80 percent of the land under rice cultivation, saving nearly 5 lakh tonnes of urea, he added.
Dr Sattar Mondol, Planning Commission member (agriculture, water resources and rural institutions), said this is a good technology, but many farmers are reluctant to go for it since it has to be applied manually. Efforts are on to develop a user-friendly applicator to resolve this problem.
But a DAE official said many farmers are using this method manually, and it is only a matter of practice.
AWD method reduces production cost by 15 percent on an average by saving 25 percent of irrigation cost and increasing yield by 10 percent, according to Bangladesh Rice Research Institute (BRRI) officials. It was experimented during 2006-09 and found to be an effective method.
For using it, a farmer needs perforated pipes to measure availability of water beneath the surface soil in a paddy field. Based on this, the field is irrigated, instead of flooding it throughout a season.
Dr MA Sattar, national consultant of Bangladesh Agriculture Development Corporation's (BADC) minor irrigation wing, said farmers usually use 3,000-4,000 litres of water for producing one kg of rice although 1,500-2,000 litres are enough.
AWD can halve the use of water, he said, adding massive use of the technology is needed. Policymakers too want it, but effective steps are yet to be taken.
Agriculture economist Dr Mahabub Hossain said it is mainly the irrigation pump owners who will benefit by supplying less water under AWD method in the present irrigation arrangements. If pump owners charge farmers less for reduced water supply, farmers will be interested in AWD, he noted.
Buried pipe technology developed by the BADC in the 1980s is a fuel and water-saving method. It requires laying concrete pipes beneath the surface in paddy fields. The pipes are to have opening points where required.
Irrigation channels on the surface of paddy fields cause wastage of almost 50 percent water, but this could be saved when buried pipes are used. And it can save almost 10-15 percent of the total production cost, said Sattar.
This method is now mainly used by the Barind Multipurpose Development Authority (BMDA) in Rangpur and Rajshahi divisions. Around 2.7 lakh hectares of land are irrigated through buried pipes in Boro season and 1.56 lakh hectares in Aman season, according to BMDA sources.
BADC also uses a small number of buried pipes, Sattar mentioned.
Dr Shaharuk Ahmed, an agriculture expert working at the IFDC in Dhaka, said a combined use of AWD and Guti urea this Boro season was being promoted.