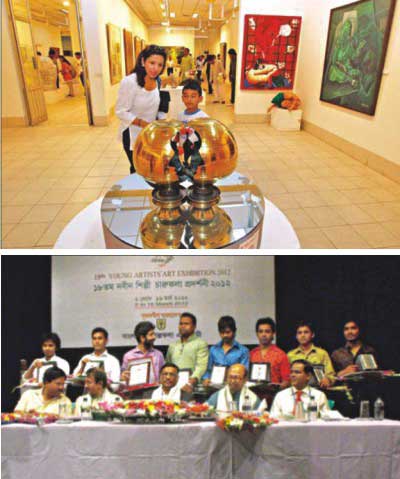 Bangladesh Shilpakala Academy (BSA) has organised the 18th Young Artists' Exhibition at National Art Gallery. The exhibition opened on March 2.
This year, Bishwajit Goswami won the fine arts award. Mohammad Mainuddin won the best painting Award and Aminul Islam received the best sculpture award. Kamruzzaman won the award in graphics for his woodcut work.
Four honorary award winners are -- Moazzem Hossain, Anisuzzaman Mamun, Jayanta Sarkar and Mohammad Erfanul Haque.
Communication Minister Obaidul Kader handed over the crests to the awardees as chief guest at the prize giving ceremony on March 2. Artist Hashem Khan and Dr. Kamal Abdul Naser Chowdhury, secretary, Ministry of Education, were present as special guests and Liaquat Ali Lucky, director general of BSA, presided over the session.
The exhibition features 224 artworks -- 163 paintings, 33 sculptures, 18 prints and 10 installations. The display features watercolour, oil, acrylic, mixed media, graphics, tapestry, linocut, screen print, ceramics, wood, metal, machinery, glass, paper, cement and stone.
Initially, a total of 463 Bangladeshi artists (aged between 21 and 35) submitted 1,111 artworks in four categories -- painting, print, sculpture and installation.
A selection committee consisted of six artists, including Mohammad Iqbal, Sheikh Afzal, Golam Faruque Bebul, Khalid Mohammad Mithu, Nilufar Chaman and Golam Rabbani Shamim, primarily selected 224 artworks by 181 artists.
The jury -- seasoned artistes Abdus Shakoor Shah, Hamiduzzaman Khan, Abul Barq Alvi, Nazlee Laila Mansur and art critic-architect Shamsul Wares -- selected the award winning artworks and the works to be displayed at the exhibition.
The Fine Arts Department of BSA has been organising exhibitions [biennially] featuring talented young artists since 1975.
The exhibition ends on March 16.