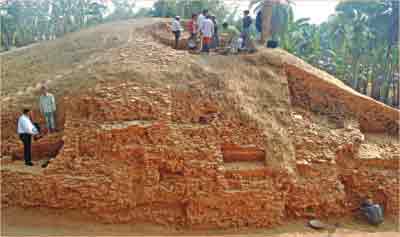 Archaeologists have recently excavated different objects, including ornamental bricks, terracotta plaques, stone slabs, cells, terracotta balls, potshards, toy objects, brick tiles and iron artefacts, from Mahasthangarh in Bogra.
The excavators claim the discovery will help one know more about the Gupta dynasty (320-550 AD) and Pal (7501174 AD) dynasty.
"We have found hundreds of bricks of different periods, including the Gupta and Pal dynasties during the excavation," said Md Badrul Alam, leader of the excavation team and director for Rajshahi region of the Department of Archaeology.
A five-member team of the department began the excavation in Mahasthangarh's western part, known as 'Tamro Duar' on January 19 this year.
Dr Md Shafiqul Alam, former director general of the department now working as a specialist with the team, said that a brick-built wall had been found that seemed to be a symbol of the Maurya dynasty.
"Earlier we found five occupations levels of pre-Maurya dynasty," he said, adding, "So far we have found 16 habitat levels in the city and adjacent areas."
Md Abdul Khaleque, former director of the department of archaeology, Rajshahi region, who is also working as a specialist with the team, said a structure was found during the excavation this week.
"The structure might have been used as a protection wall of the Tamro Duar (a gateway) during the Gupta dynasty.
"More excavations are needed for additional information about the wall and artifacts," said Abdul Khaleque.
"Since 1922, we have found various archaeological objects and structures of different dynasties, including the pre-Maurya dynasty, in several archaeological excavations," he added.
Afroza Khan Mita, assistant director of the archeology department, said that more excavations were needed to arrive at a conclusion about the discovery.