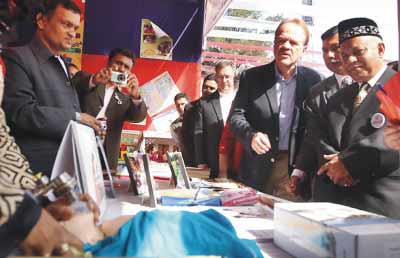 Bangladesh will emerge as the 'second China' in the next 15 years as the country marches ahead to become a global leader in areas such as readymade garments, medicine and shipbuilding, a top diplomat said yesterday.
"I am hopeful that Bangladesh will emerge as the second China in my lifetime. It is not a mere dream. It will come true and the country will be a golden country," said US Ambassador to Bangladesh Dan Mozena.
He made the comments at a press briefing organised by the US embassy at the conference hall of MA Aziz Stadium in Chittagong at the inauguration ceremony of "America Week 2012".
Chittagong City Corporation Mayor M Manjur Alam opened the three-day festival, where more than 60 stalls have been set up by the US Embassy, USAID and its development partners and US companies.
Mozena said Bangladesh has a strong chance to be the number one RMG exporter in the world. "Not only in the RMG sector, Bangladesh could emerge as one of the biggest exporters of medicine."
"The country has also scope to come out as one of the biggest exporters in leather and shipbuilding. It can also play vital role in information technology, especially, in animation," he added.
The envoy said the agriculture sector in Bangladesh has achieved commendable development in the past few years.
There are some challenges too, said Mozena. "Bangladesh has to work hard in developing its communications sector. The port facility will have to be upgraded."
The diplomat said America would invest nearly one billion dollars in Bangladesh over the next five years to help the country improve the lives of its citizens, especially the children.
"America's partnership with Bangladesh has so many facets: health of pregnant women and mothers of children, health of newborns and older children and fighting TB and HIV/AIDS."
The theme of this year's festival is "Moving forward together", which, he said is the guiding principle of his country's partnership with Bangladesh. "The partnership is strong and getting stronger."
"We are here to tell the story of America to the good citizens of Chittagong and also tell of America's deepening support for the wondrous people of Bangladesh as they build a peaceful, secure, prosperous, healthy and democratic Bangladesh."
The US plans to assist Bangladesh in improving food security through increased agricultural production, helping it adapt to the effects of climate change, strengthening the democratic institutions, fostering civil-military relations and building capacity to defend the nation's maritime and land borders.
The event is open to visitors from 10am to 5pm on January 31 and February 1. This is the third time the US has hosted the festival in Chittagong.
Visitors will have opportunities to learn more about study opportunities at US universities, visa procedures, or the process to participate in a US-funded development project.