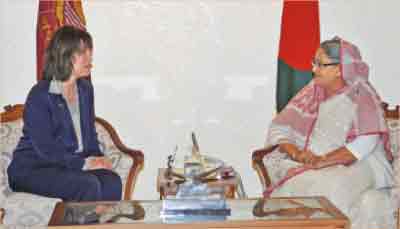 Prime Minister Sheikh Hasina yesterday reaffirmed her commitment to contain terrorism, militancy and women and child trafficking alongside continuing efforts to strengthen democracy.
She said this when visiting US Congresswoman and Ambassador at-Large for Global Women's Issues Betty McCollum called on her at her office.
After the meeting, Press Secretary to the Prime Minister Abul Kalam Azad briefed reporters.
He said Hasina told the US congresswoman that after assuming power her government controlled extremism, terrorism and militancy in the country with an iron hand. "But, the militants are still getting patronage from the main opposition," she alleged.
Her government approved a draft of anti-trafficking law last month stipulating capital punishment for human trafficking and prosecution of the accused by tribunals, said Hasina.
"Bangladesh is upgrading its national capacity to combat the menace of trafficking in persons," the prime minister said adding that her government is relentlessly working for people's empowerment, especially that of women.
In this context, she mentioned that the direct election to the seats reserved for women in all local government bodies, election of parliament members, appointment of a good number of women ministers, secretaries, justice of higher courts and police officers.
She also mentioned about her government's steps to give the country's democracy a strong footing and said the Election Commission is being strengthened to this end.
She referred to the use of Electronic Voting Machine (EVM) in local government election in Comilla City Corporation (CCC) for making the voting fair and transparent.
About continuation of the democratic process, she said, "Democracy must continue in the country. Without democracy there'll be no development in any country."
Hasina said her government during its previous term had taken initiatives to reach healthcare services to the doorsteps of people through community clinics and the country was fully freed from polio.
On war crimes trial, the prime minister said the trial is a popular demand of the nation as it was in the case of the trial of the killers of Father of the Nation Bangabandhu Sheikh Mujibur Rahman.
The US congresswoman lauded the role of Bangladeshi peacekeepers to the UN, especially the women.
Ambassador at-Large M Ziauddin, Principal Secretary to the Prime Minister Sheikh Md Wahid Uz Zaman, and PMO Secretary Molla Waheeduzzaman were present.