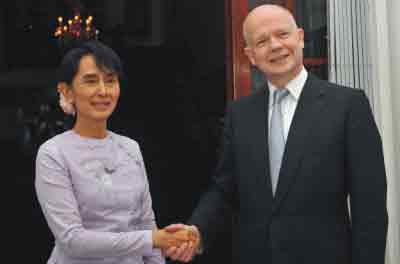 Aung San Suu Kyi said yesterday she expected to live to see full democratic elections in Myanmar, ahead of historic talks with Britain's foreign secretary, who pledged positive response to more reforms by the nominally civilian government.
William Hague, the first British foreign minister to visit the military-dominated nation in more than half a century, urged the release of all political prisoners before holding talks with President Thein Sein.
He welcomed Myanmar's pledge to continue reforms, saying such progress, if sustained, would lead to deeper economic and political ties with the West.
He was due later yesterday to meet Suu Kyi, the Nobel peace laureate who has grown cautiously positive about the country's future since the installation of a nominally civilian regime after November 2010 elections.
"I think there will be a full democratic election in my lifetime, but then of course I don't know how long I'm going to live," Suu Kyi said in an interview with the BBC.
She added that her National League for Democracy (NLD) had been officially registered, passing the final hurdle to enable it to run in by-elections scheduled for April 1.
The 66-year-old opposition leader, who could enter parliament for the first time if she goes ahead with plans to contest the by-elections, was noncommittal on the prospects of eventually running for president.
"I'm not even sure that this is something that I would like to do," she said ahead of her meeting with Hague in the commercial hub of Yangon, where she lives.
Suu Kyi was freed from seven straight years of house arrest days after the 2010 polls.
Hague said he would try to encourage the Myanmar government to "continue on its path of reform."
Britain is the biggest aid donor to Myanmar, according to the Foreign Office, and Hague announced extra assistance after a meeting with the president, a former junta general, in Naypyitaw, the capital built in secret six years ago.