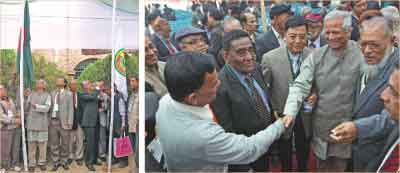 If he had not gained the opportunity to be admitted at Chittagong Collegiate School, his life could have turned out different, said Nobel Laureate Prof Muhammad Yunus yesterday.
"I took the admission test of Chittagong Muslim High School, another prominent school in Chittagong city, because it was my father's wish.
"I went to Chittagong Collegiate School only to view the admission test results of my friends," he said.
There he stumbled across a teacher and struck up a conversation. The teacher, impressed by his talent, took him to the headmaster who got him enrolled, he added.
Prof Yunus was addressing, as chief guest, the inaugural programme of a three-day festival at the school premises in Chittagong city.
Chittagong Collegiates, an organisation of the school's former students, organised the festival, "Bhora thak smriti sudhay", (let the memories be ever bright) marking the school's 175th founding anniversary.
"The school provided a 15-year-old boy like me the opportunity to visit many countries of Europe and the US as a scout member. I think the school changed and made me what I am today," he said.
If young learners are provided with the latest technologies and innovations, it would make no difference in the standard of education provided here and abroad and they would be able to dramatically change the country, he said.
"Our young learners are the main resource of the country. Now it is our responsibility to take them to such a height from where they will be able to solve all problems that obstruct the country's development," he added.
Emphasising a proper utilisation of youth power, Prof Yunus said, "The present world is going through a period of creativity. Proper education and institutions play a significant role in building creative minds."
Terming youth "a great strength", he said half of the country's population is less than 21 years of age and comparatively has more capacity to hold information and knowledge than older generations.
So the outcome in the coming days would be determined by how the potentiality of the young generation is being used, he said.
Reminiscing on his school days, he said he felt proud to have been a student of the renowned school. "A school which has a history of 175 years is rare. The institution has the potential to compete with any other school in the world."
He urged the government and the school's former students to come forward in enhancing the availability of technologies in the school so that it can maintain its standard of education.
The festival committee convener Amir Humayun Mahmud Chowdhury and its member secretary Moshtaque Hossain spoke as the special guests at the festival, presided over by its Vice-President MA Malek, who is the editor of the local daily Dainik Azadi.
Over 4,000 former students of the school were there from home and abroad to attend the function.