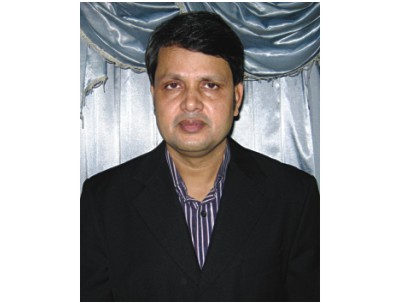 Ali Ashraf Iftekhar
Brick makers in the country are looking to convert existing technologies into zig zag kilns for cost effectiveness and environment friendliness.
"Zig Zag kilns are relatively easier to install and use than other technologies. It is also environment-friendly," says Ali Ashraf Iftekhar, general secretary of Bangladesh Brick Manufacturing Owners Association (BBMOA).
He says there are generally six types of brick kilns in Bangladesh -- Bull's Trench Kiln, Fixed Chimney Kiln, Zig Zag Kiln, Vertical Shaft Brick Kiln, Hybrid Hoffman Kiln and Tunnel Kiln.
Experts say the zig zag, vertical and hybrid kilns use relatively modern technologies. They are more energy efficient than the bull's trench and fixed kilns, while the tunnel kiln is the most advanced and has the highest degree of mechanical automation and energy efficiency.
In Bangladesh, around 95 percent of the brick fields are making bricks by the highly polluting fixed chimney kilns, as it requires low capital costs and has high investment returns.
"We want to replace the existing fixed kilns to zig zag models to manufacture bricks as it is a viable and cost effective solution for the country," says Iftekhar.
Zig zag kilns do not use wood; hence it saves trees. Again, the black smoke produced in the kiln flows through a zig zag path over water and is finally transformed into eco-friendly 'white smoke' before being emitted into the environment, he adds.
Iftekhar, who is in the brick business for over 22 years, says the individual investment to convert to a zig zag kiln will be around Tk 35 lakh for the manual system and Tk 2 crore for the mechanised system. In addition, the installation cost will be around Tk 60 lakh for the manual system and Tk 2.50 crore for the mechanised system.
The hybrid and vertical kilns basically require to setup on high grounds for successful installation and operation. In our country, about 90 percent of the brick kilns are situated on low lying grounds, which makes it very difficult to setup and operate these models, he adds.
"Even if we are to set up the vertical and hybrid kilns on selected high lands, a scarcity of mud will become crucial, given the topography of our country," says Iftekhar.
"Our estimate is that only 10 percent of the existing fixed kilns may be converted to the hybrid or vertical models," he adds.
Iftekhar, who is the owner of AIM Brick Field, says the quality of bricks produced with the vertical kilns is lower than those produced with fixed kilns.
For example, a second grade brick of fixed kilns is of higher quality than a first grade brick of vertical kilns.
In practical operations, vertical kilns were found to consume much more fuel than predicted earlier, while the tunnel kilns have high installation costs. Most entrepreneurs are unlikely to be able to afford such conversions, even with bank finances, he adds.
The general secretary of the association says banks provide loans worth up to 60 percent of the total project cost with collateral worth 1.5 times the loan. So, most entrepreneurs are unable to present this much collateral to obtain bank finance.
The current lending rate of the state owned banks is 15 percent, and for private banks, it is 16 percent on an annual compounding basis, which is not favourable for a brick entrepreneur, says Iftekhar.
He says brick entrepreneurs need long term bank loans covering at least 75 percent of total project costs at 5 percent a year on a simple interest basis.
Iftekhar urged the government to modernise the rules and regulations regarding brick fields and speed up the process of issuing clearance and other relevant certificates.
He says a brick field needs 11 to 12 government licences and certificates before going into operation. Some licences and clearance certificates are valid for one year and some for 3 years.
The brick entrepreneur also faces difficulties in renewing these licences and certificates, says Iftekhar.
"We do not get renewal on time. When we apply for a particular licence or certificate at a government office, we are asked to submit another paper or certificate from another agency, which cannot be obtained beforehand," says Iftekhar.
For example, the Department of Environment asks for certificates from Bangladesh Standards and Testing Institution before issuing their certificates. "We duly request concerned authorities to issue their papers without hassle or delay."
He sought cooperation from all in making the brick-manufacturing sector of the country sustainable.