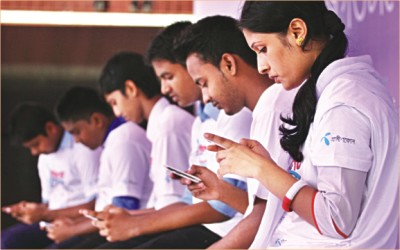 Internet, the modern day one-stop-solution to most lifestyle needs, has become an important factor in boosting economy. Recent studies show that the GDP of a country is positively correlated with its internet penetration. This alone signifies the need for raising internet awareness in Bangladesh.
Increasing the level of internet penetration in Bangladesh, which is below 5% at present, has always been a huge challenge. This is because of a number of factors i.e. low literacy rate of the customers, technology shyness in general, significant resource gap in urban and rural areas and so on.
Aimed at increasing the awareness of internet and build a more internet-savvy generation, Grameenphone Ltd, in collaboration with the Daily Prothom Alo, has organised a student community program styled 'Grameenphone-Prothom Alo Internet Utshab'.
The program has been strategically endorsed by The Ministry of Science and ICT and Opera Mini also works as the browsing partner of the initiative.
The 'Internet Utshab' is a day-long event that is being held in semi-urban and rural schools and colleges targeting the students and their parents. Under this banner, 101-day long events will be held across the nation with participation of around 1000 schools & colleges in this year.
The events offer a variety of components to raise awareness and enthusiasm regarding internet. There will be a number of audio-visual presentations on the benefits of internet so that students can learn the way internet can enlighten their lives.
Also the concept of responsible internet citizenship will be promoted by urging students to avoid the negative use of internet.
To give the visitors live experience on internet and the opportunity to subscribe to internet on-the-spot, there are demonstrations and sales booths offering free browsing, online games, attractive freebies and discounts.
The event has an exciting mobile browsing contest called I-Genius. It is a knowledge-based quiz competition where contestants are allowed to browse internet to find out the answers.
Students can pre-register for this contest through school authority or avail spot registration. Organisers also provide hands-on training to each contestant on mobile internet browsing and using search engines before the contest.
The first event was held in Nawabgonj Pilot High School, Nawabgonj on September 27.